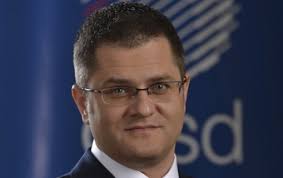 Belgrade, October 7, 2016/Independent Balkan News Agency
By Milos Mitrovic
VukJeremic, former Serbian foreign minister who has earlier this week finished second in race for new UN secretary general, will decide whether he will run for Serbian president, Belgrade media claim.
His standing within the UN – Jeremic was also president of its General Assembly from 2012 to 2013 – may be good start for presidential bid at 2017 elections, "Vecernje novosti" daily reports. But Jeremic didn't decide yet whether he would continue his engagement at international stage, including in his prominent Center for International Relations and Sustainable Development (CIRSD). The alternative to keeping current role would be – entering presidential race, Serbian daily suggests.
So far Jeremic and his colleagues from CIRSD declined to comment reports on his political ambitions.
"Vecernje novosti" recalled that, according to polls, Jeremic enjoys high popularity among Serbs – within both "pro-European" and "national" electorate. "Thus, he is in the focus of many opposition parties but, as we learned, he did not received yet any specific offer to join any party", daily claimed adding, however, that nor Democratic Party (DS) whose Jeremic was member, neither other opposition groups "don't consider to nominate him at the moment".
Borko Stefanovic, leader of non-parliamentary group Left of Serbia and Jeremic's close aid during his term in Foreign Ministry, says that the "key issue" is how Jeremic would look on current Serbian government. "The path for an opposition nominee would be very tough… As far as I know him, Jeremic would think twice about it", Stefanovic said.