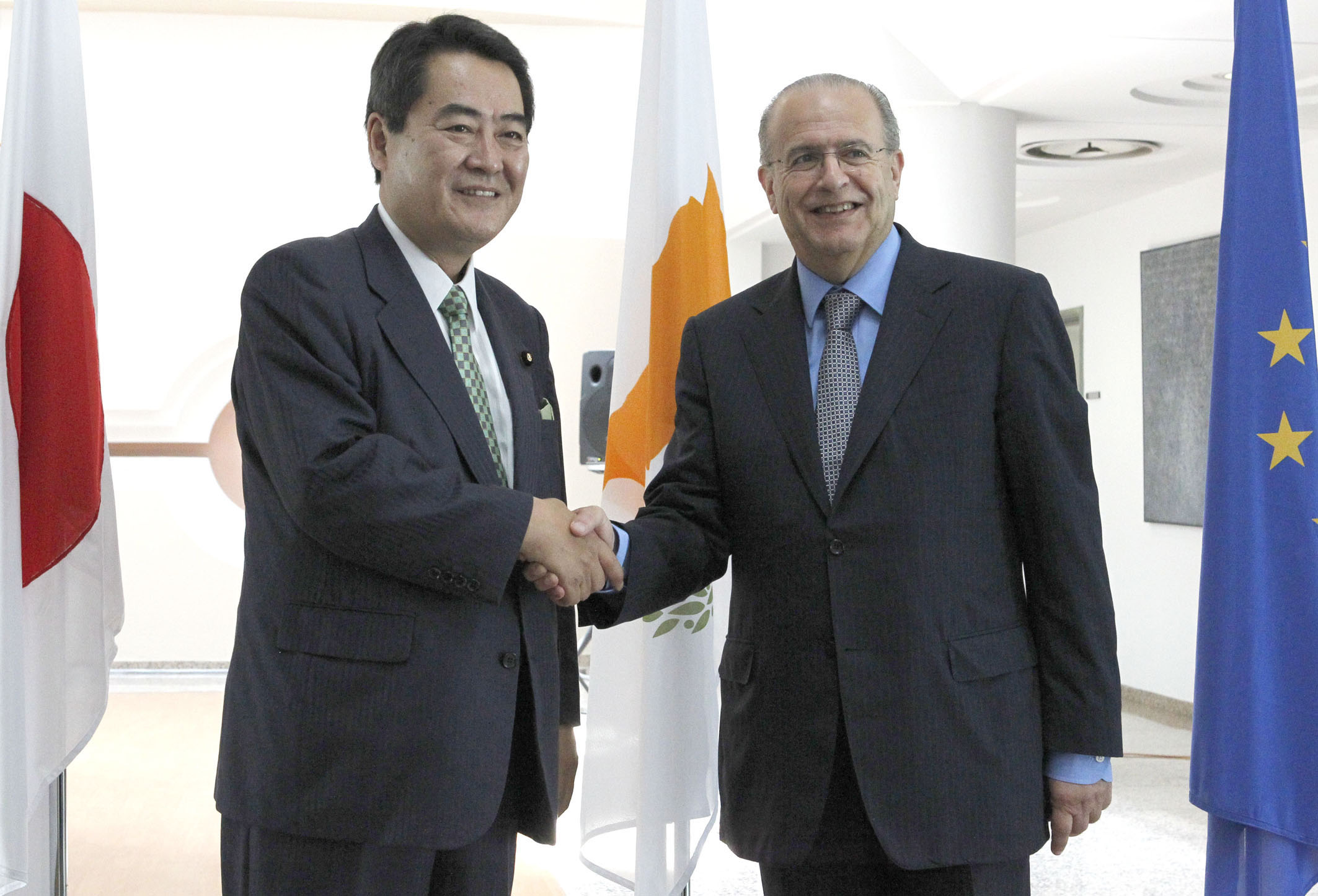 By Kyriacos Kyriacou-Nicosia
Japan supports Cyprus President`s efforts for a peaceful solution on the island, visiting Parliamentary Vice-Minister for Foreign Affairs of Japan, Takao Makino has said. Makino, who met here today Cypriot Minister of Foreign Affairs Ioannis Kasoulides, was briefed on the Cyprus issue and discussed enhancing bilateral relations. Cyprus talks, aiming at reaching a solution of the problem by reunifying the country divided since the 1974 Turkish invasion, resumed between the Greek and Turkish Cypriot sides in February this year.
In his statements after the meeting, Kasoulides said the Japanese official`s visit to Cyprus "constitutes tangible proof of our joint commitment to strengthening our bilateral relations", adding that his visit "acquires particular importance given Japan`s economic and political clout, not only in Asia but in the entire world".
The Japanese official, who was briefed by Kasoulides on the state of play of the Cyprus issue, said that Japan "appreciates a peaceful solution on the island, which the current President (of Cyprus Nicos Anastasiades) is seeking and we agreed to support it". As they both stated, discussion focused on ways to enhance bilateral collaboration in various sectors, such as investment, science, education, student exchanges, tourism and crisis management.
Moreover, the Cypriot FM outlined to the Japanese Vice Minister the issue of Cyprus` Exclusive Economic Zone. He said they both agreed on the need to adhere to International Law and the UN Convention on the Law of the Sea.
Investments
Asked whether they discussed possible investments in the energy sector, Kasoulides explained that investments are done in the private sector, adding that "so we have agreed that both governments will encourage the private sector to show interest in investments".
Meanwhile, replying to a question whether Japan has expressed an interest in becoming a purchaser of natural gas when extracted from Cyprus, the Japanese official, speaking through an interpreter, said that "I think that we have not reached a point that we can discuss this issue". He also said that Japan asked for Cyprus` support in the EU – Japan negotiations.
Kasoulides pointed out that they both examined issues of mutual concern including the forthcoming Asia – Europe Summit that will take place in Milan in October. Cyprus and Japan, he said, will both participate and "we very much look forward to high level discussions".