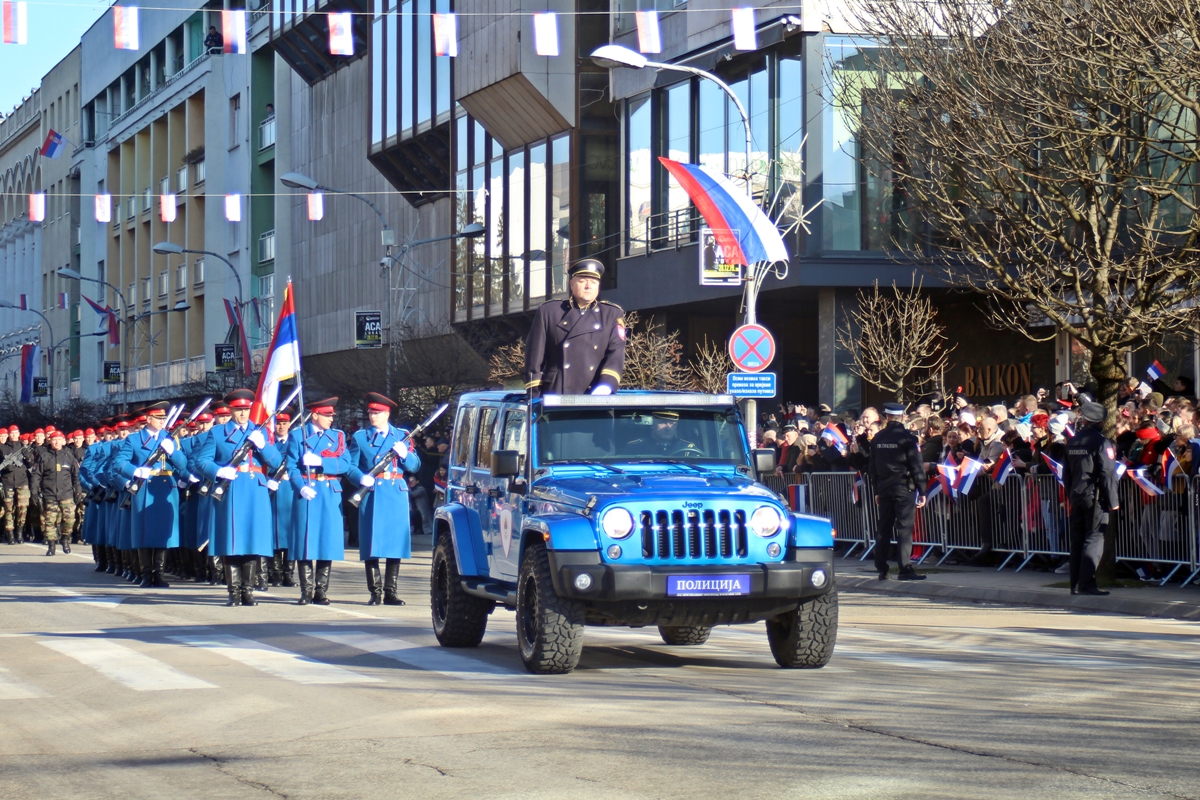 Probably the most disputed public holiday in Bosnia and Herzegovina, the Republika Srpska Day, January 9, was celebrated in RS despite the criticism of Bosniak politicians and part of the international community.
In the last four years, RS authorities led by the Alliance of Independent Social Democrats (SNSD) organize a parade on the RS capital, Banja Luka, streets. It should be noted that January 9 was a forgotten holiday and it became an important day just a few years ago. It marks the day when the Serb MPs in the BiH Parliament, back in 1992, decided to establish the Parliament of the Serb Republic Bosnia and Herzegovina. Bosniaks, according to the statements of the highest politicians, consider that date as the "date when all evil has begun" in BiH.
Addressing the citizens gathered at the parade, SNSD leader and Serb member of the BiH Presidency, Milorad Dodik, said that "Republika Srpska is stable, peaceful, committed to the development and freedom of all peoples living in it".
"There is no freedom for the Serb people unless they have their own state. That is why Serbs today have two states – Republika Srpska and Serbia … Serbs have never fought for their freedom alone, but they have always given it to others … Even today, RS is free for other peoples who live in it. Bosniaks and Croats freely express their identity, religion and enjoy all their rights, participate together with us in political life, they are part of our institutions, the government and the National Assembly…", Dodik said.
But, the fact is that January 9 as the RS Day has been banned with a rulings of the BiH Constitutional Court because only Serbs can identify with it. For Croat and Bosniaks, who are also constituent nations at the whole BiH Territory, it just means the day when Serbs decided to separate from the state. That decision, for them, was the trigger of bloody events during the 1992-1995 war.
The indifference to the Court's decisions and stubborn celebration of this holiday in RS was condemned by the international community High Representative office (OHR), which reiterated that this date is unconstitutional.
"The Constitutional Court of Bosnia and Herzegovina decided on the compliance of January 9, 1992, as the day of establishing the Republic of the Serb people of Bosnia and Herzegovina with the Constitution of Bosnia and Herzegovina, and found that marking this day is unconstitutional. We would like to underscore our earlier stance that the OHR is not against the RS marking its day but it must be arranged in accordance with Bosnia's constitutional framework," said the OHR.
Regardless, it is worth noting that the organization of the January 9 celebration, including the parade, costs the taxpayers more than 450 000 BAM (225 000 Euros), according to last year's figures. That money could be invested in something else that would be useful for all citizens, regardless of nationality./ibna