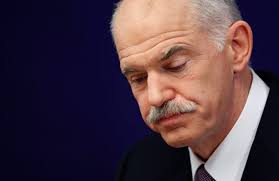 Athens, December 30, 2014/ Independent Balkan News Agency
By Spiros Sideris
All attempts by members of PASOK to sway Giorgos Papandreou to not proceed with the establishment of the new party are proving fruitless.
"Giorgos will not step back", says to protothema.gr a close associate of the former prime minister and one of the protagonists of the new movement. Indeed, he adds that "The more Papandreou sees them begging him, so that they can keep their petty positions, the more it angers him!"
This reaction and the clear message that contains, comes as a "response" of the side of Papandreou on the stifling pressure the last hours, by a series of historical members of PASOK, to keep the party from splitting.
"There is no Side at 4%" says a top members of Papandreou's initiative and sends a message to each direction: "The party will be formed from the beginning. With conflicts and ruptures, not transactions and negotiations".
He also stresses that "like all Papandreou historically, Giorgos will start against everyone and found the party from the beginning".
It should be noted that at noon on Monday, shortly after the unsuccessful vote in the House for the presidential election, which meant resorting to snap election, members of PASOK, such as Fofi Genimmata, Kostas Skandalidis, Dimitris Kremastinos, Andreas Loverdos, Giannis Maniatis and others, went to the office of Papandreou and persistently asked him not to attempt to establish a new party.
The former prime minister listened politely, but did not give any promises. However, as his colleagues say, these calls angered him rather than ceating second thoughts.
According to the same sources, the announcement of the new party will not be made before the New Year, as it was made known a few days ago, but probably on January 3, in order to symbolise, the change of the new year with the fresh start.
And perhaps by selecting the 3rd of the month, it will be somewhat reminiscent of September 3, another historical date for the party.