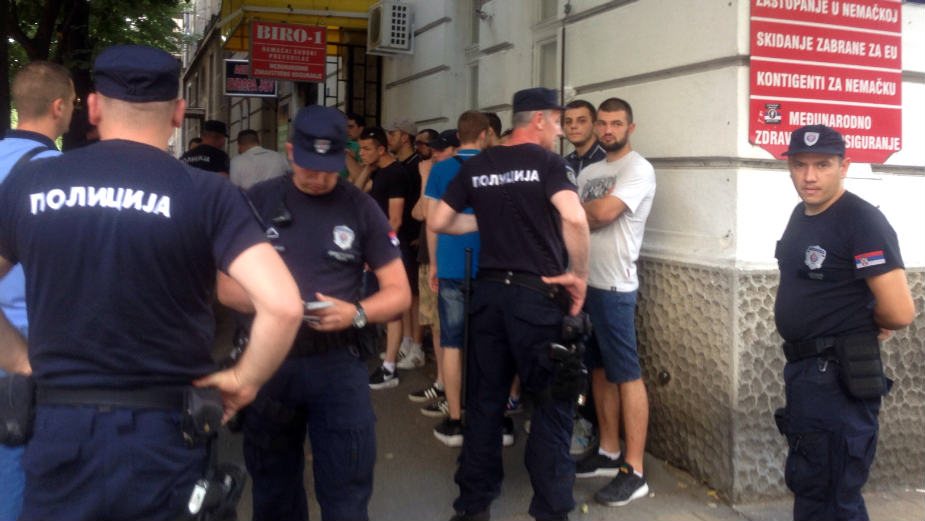 The policemen have prevented the members of organization "Serbian patriots" to enter at the promotion of the book by former Kosovo president Atifete Jahjaga. Still, the promotion was tense: deputy mayor of Klokot, Kosovo and Metohija, has interrupted it.
"Serbian Patriots" have been singing in front of the Center for cultural decontamination, where promotion took place. "Kosovo is heart of Serbia", they shouted.
The entry at the promotion of Jahjaga's book "I want to be heard: Stories of women that survived raping in Kosovo war" was allowed only to journalists and guests with invitations. Jahjaga was invited to take part, but she spoke via video link.
At the very beginning of the event, Milos Stojkovic, deputy mayor of Klokot, demanded apology from Jahjaga because "she had expelled him from his house in Kosovo and Metohija".
The historian Marijana Toma apologized to Jahjaga saying that "Serbian authorities" did not allow her to take part in promotion.  But Stojkovic shouted: "Kosovo is heart of Serbia".
Head of the Association of the families of kidnapped and killed persons in Kosovo and Metohija Simo Spasic has tried to calm Stojkovic down. In the end, Stojkovic was taken out by security.
Jahjaga said by video link that she did not understand why Serbia has prevented her to come to Belgrade. "The precondition for the good relations between Serbia and Kosovo is victims to rest in peace but this is not welcomed by some organizations and Serbian regime", she said./ΙΒΝΑ