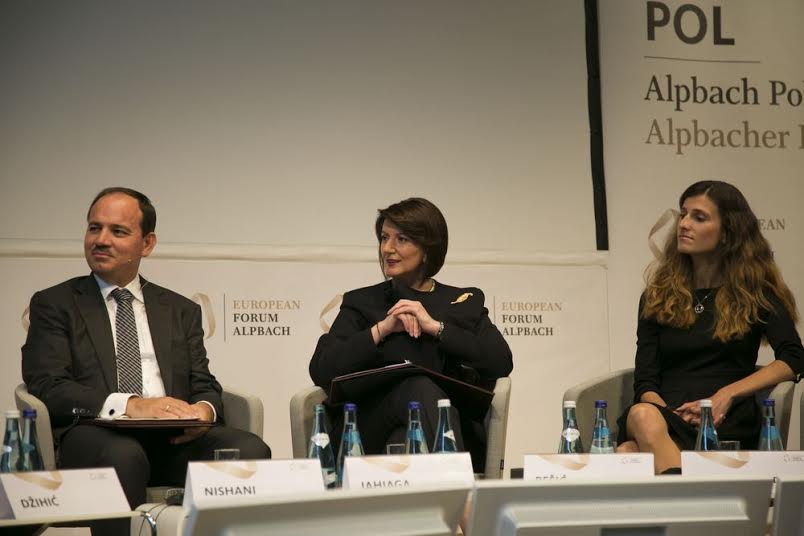 Pristina, August 27, 2014/Independent Balkan News Agency
By Elton Tota
President of the Republic of Kosovo, Atifete Jahjahga has participated today in the "From reconciliation to integration" panel in the framework of the European Alpbach Forum being held in Austria.
Along with the president of Albania, Bujar Nishani and other participants from different international organizations and southeastern Europe region, president Jahjaga has talked about the path of Kosovo and the region, its efforts to build good neighborly relations, to make justice for the victims of the war and involve young people in important processes for their countries.
Jahjaha said that the integration of the Balkan in the EU helps peace and stability in the region, reports IBNA.
"For each of the West Balkan country, the EU means a force leading to peace, stability and safety for everyone and above all, it's an irreplaceable option with a large impact on the transformation of our economies and policies. It's a project of our citizens and the only alternative for each of us", declared Jahjaga.
She said that Kosovo is part of the joint effort of the region for integration in the EU and a strong contributor for stability and good neighboring relations.
"The EU project will be meaningful once all our countries become part of the European family, as equal and in cooperation with each other", said Jahjaga.
According to her, in this period, the Balkan is trying to change the world's perception on it.
"Beyond violence and hegemony, destruction of human lives, old grudges, today, the Western Balkan region is showing that it has a will to cooperate and cohabit and this leads to the finalization of European Atlantic integration process", said Jahjaga.
"This cohabitation implies reconciliation between people who have mistrusted each other. Full and fair reconciliation with justice that will be made, to heal the spirits of all the victims of bloody wars, raped women and their families that are missing even today. Reconciliation is meaningful when realities are accepted! Because this also changes the approach of neighbors to each other and accelerates the path toward EU", added the Kosovar president. /ibna/