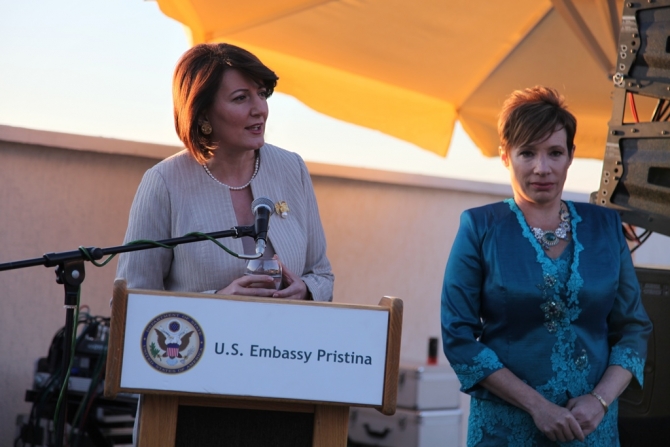 Pristina, July 4, 2014/Independent Balkan News Agency
By Elton Tota
The 238th anniversary of the Independence of the United States of American has been celebrated in Kosovo too. The US embassy has held a ceremony with the participation of different personalities of the country.
Along with the 238th anniversary of independence, ambassador Tracey Ann Jacobson has also celebrated the democratic developments in Kosovo.
In her speech held in the Albanian language, she talked about the recent elections in Kosovo, local and parliamentary ones, which were held in the entire territory of Kosovo.
She has congratulated the citizens of Kosovo and at the same time, she has expressed the readiness of the USA to further assist the country.
"There are challenges, but I'm convinced that if Kosovo engages toward its democratic principles and European perspective, then it will continue to progress. We welcome the continuation of the close partnership that we have with each other, supporting you in the important challenges that you have ahead", said ambassador Jacobson.
US ambassador said that she was happy that the two countries have good relations with each other and thanked the participants for their participation.
Part of this event was the president of Kosovo, Atifete Jahjaga, departing prime minister Hashim Thaci, leaders of political parties in the country, heads of communes, ministers, religious leaders, etc.
Jahjaga proposed a toast for the 238th anniversary of USA and the friendship between the people of Kosovo and the American people.
"We're united in our joint objective for freedom, equality and democracy. Dear ambassador, thank you from the bottom of our heart for enabling our people to live in peace. This has a special meaning for the people of Kosovo and all its citizens. Thank you for your trust in our vision of building a state and democracy, which we're strengthening every day", said Jahjaga. /ibna/