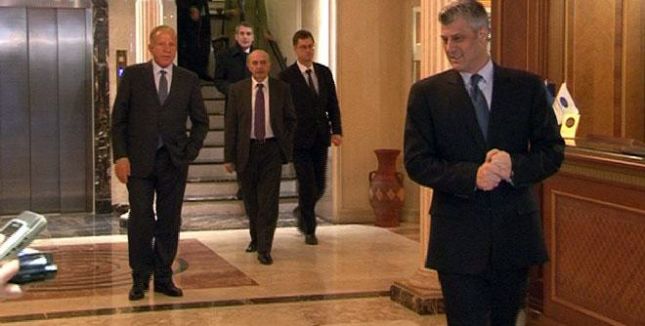 IBNA Special Report/American diplomacy in Pristina, a roundtable with political leaders to agree on a consensual date for the early parliamentary elections. Election experts say that without an electoral reform, the process may be jeopardized. IBNA hears from professor of Constitutional Law, Fatos Rushit and expert of constitutional issues, Prof. Xhavit Sala
Pristina, April 3, 2014/Independent Balkan News Agency
By Elton Tota
Leaders of the biggest parties in Kosovo have become part of an agenda of talks hosted by the US ambassador to Pristina, Tracey Ann Jacobson. These talks are being held in order to talk about deciding a date for the early parliamentary elections in Kosovo.
IBNA learned that this roundtable will be held in the premises of the US embassy in Pristina. This meeting is expected to achieve consensus over the date of the early parliamentary elections.
Leader of PDK, Hashim Thaci and that of LDK, Isa Mustafa were in a meeting earlier, where they have agreed for the elections to take place in June 2014.
Following this meeting, leader of LDK, Isa Mustafa has held several meetings with leaders of other political parties to discuss the date of the parliamentary elections.
Professor of Constitutional Law, Fatos Rushiti told IBNA that elections can be held in June, but he says that the holding of the elections without a proper electoral reform will damage this process.
"The holding of the elections without a proper electoral reform can seriously damage the electoral process. It's important for the elections to be free and honest and to comply with all international standards. I believe that foreign  diplomats from the US and European Union in Kosovo are being engaged on this", says Rushiti.
Meanwhile, expert of constitutional issues, professor Xhavit Sala says that parliament of Kosovo may be dissolved at the end of April or the start of May. According to him, this will happen in case political representatives agree on holding the elections in June.
"If political parties agree on holding the parliamentary elections at the beginning of June, then at the end of April or the start of May, the government must dissolve or be overthrown", says Shala.
Leaders of opposition parties seem to have started the electoral campaign before its official date. They demand the vote of the people for a political rotation, aiming the overthrowing of the current government of prime minister Hashim Thaci.
Ahead of the electoral campaign, Mr. Thaci, leader of the biggest party of the majority, PDK, has taken a number of decisions in favor of the citizens. Opposition and analysts say that these decisions are electoral ones in order to secure another term in office as prime minister of Kosovo. /ibna/