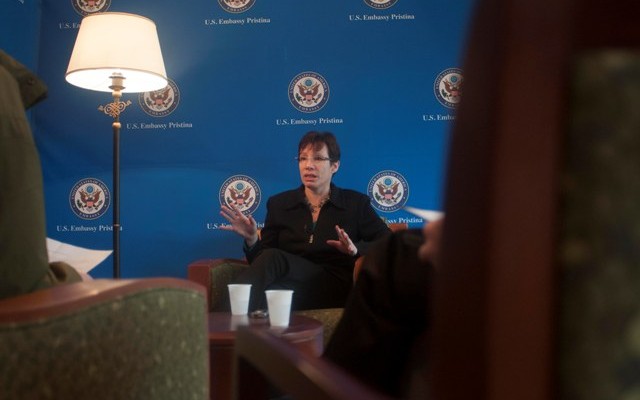 Pristina, April 16, 2014/Independent Balkan News Agency
By Elton Tota
US ambassador to Pristina, Tracey Ann Jacobson, has had a meeting today with leaders of political parties to discuss once again the possibilities of voting the creation of the Special Court and EULEX mandate in the Parliament of Kosovo.
IBNA sources inform that this meeting has decided for the Tribunal to be voted on April 22 and the general elections to be held on June 8.
Political leaders have agreed for the parliament's steering committee to gather on Friday in order to decide the date when the mandate of EULEX and the creation of the Special Court on War Crimes will be voted on a plenary seating.
The meeting concluded that the seating cannot be held before April 22.
"First of all, there must be an exchange of letters between the Presidency of Kosovo and High Representatives of the European Union, then there must be an amendment of over 10 laws and then decide on the plenary seating. This procedure will continue until Friday, when the parliament's steering committee will gather and decide on the voting date in parliament", told a senior international official in Kosovo who participated in the meeting to IBNA. The special court is expected to be voted on April 22. /ibna/