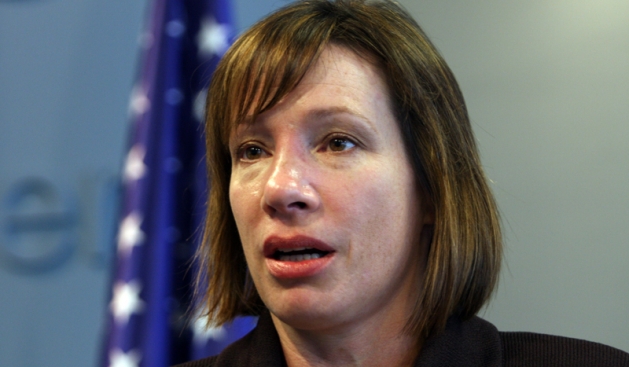 Ambassador Tracy Ann Jacobson said that US Embassy doesn't support any candidates or parties, but only the electoral process. She said that the June 8 elections can be the best ones ever held in Kosovo, adding that those who touch the integrity of the elections must be punished.
Pristina, May 16, 2014/Independent Balkan News Agency
By Elton Tota
US ambassador, Tracy Jacobson believes that June 8 elections will be the best elections ever held in Kosovo.
In an interview for RTK, Jacobson said that all elections are subject to fraud, but those who perpetrate them must be prosecuted.
"It's the first time that Kosovo will hold general elections in its entire territory with the laws of Kosovo and I hope that we will see the best general elections ever to be held. It's important for these elections to be held based on the 2013 local government elections standards", said the US diplomat.
Ambassador Jacobson clearly said that USA doesn't support any particular candidate, therefore if someone says that he has the American support, this is a lie.
"We never support any given candidate. If someone says that you must vote for me, because the US embassy supports me, you must know that this is a lie. We don't support particular candidates, but we support as fair process, where the vote of the citizens is guaranteed", said she.
Commenting the fact that the Serb elected representatives in the local elections do not accept the independence of Kosovo, ambassador Jacobson said that the parliamentary elections are a good way for everyone to be heard in the parliament of Kosovo and that the elections can be seen as a step toward the integration of all communities.
She said that whoever enters parliament, must take his oath before the Constitution of Kosovo.
"At the end of the day, every successful candidate must come in parliament and take his oath in front of the Constitution of Kosovo. It's clear that the parliamentary elections are being held in an independent state. I understand that there are people who don't want to recognize the independence, but if they want their voice to be heard in parliament, they must run in the elections which are being organized by the Republic of Kosovo", added she.
US ambassador said that there will be 40 American monitoring teams and that she will also closely observe the elections, in order to guarantee the free vote of the citizens of Kosovo. /ibna/