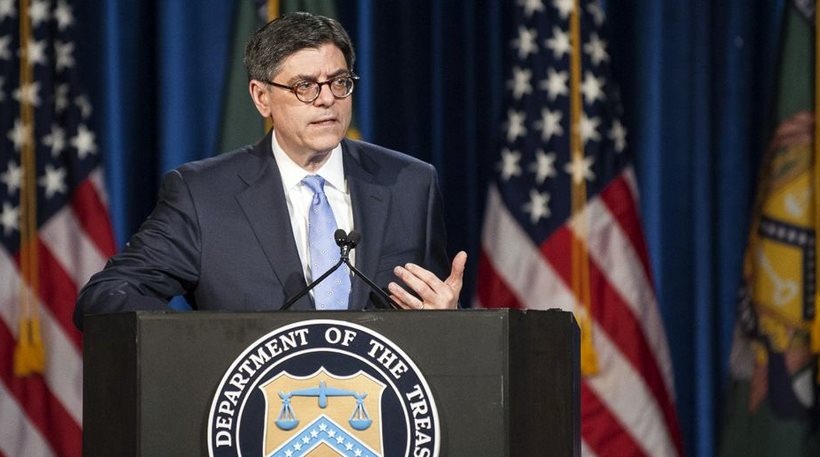 Athens, July 9, 2015/ Independent Balkan News Agency
By Spiros Sideris
An exit of Greece from the eurozone would be a geopolitical mistake, said in a resounding intervention US Treasury Secretary Jack Lew.
Lew reiterated the consistent position of the US that it is imperative for Greece and Europeans to reach an agreement.
Indeed he revealed that to his knowledge, the two sides were one step away from a deal before the proclamation of the referendum.
He described the debt of Greece as non-viable, noting that there is hesitation from Europeans regarding the restructuring of European debt.
In any case, the US Treasury Secretary admitted that the big question is when will Greece runs out of money.
Specifically, the US Treasury Secretary said it's in constant contact with European officials about the Greek issue.
According to the British newspaper Guardian, in his speech at the Brookings Institute in Washington, Lew further warned that Greece's debt is unsustainable, echoing the concerns expressed by the International Monetary Fund. He spoke of a "deep" reluctance among some European countries to address this issue.
"The IMF rightly focused on the Greek debt," said the US Treasury, according to the British newspaper.
"There are many unknown (consequences) if the situation reaches a point where everything will collapse in Greece", Liu stresses, according to Reuters.
"I think the unknown constitutes a danger to the European and world economy… I think it is a geopolitical mistake".
Jack Lew urged all sides to reach an agreement.
An agreement for Greece is not possible, he noted, if Athens does not take "tough decisions" on the reforms and the Europeans do not take "difficult decisions" on debt relief.
"I think no Greek prime minister could "pass" new budgetary measures in addition to the structural reforms without having an idea on ​​the sustainability of the debt", Lew said.
At the same time, the US Treasury noted that European governments cannot support a new support program of the Greek economy "without the certainty that the agreement will not be applied to the letter".
"It's not that there are many new issues to be addressed. At a certain point, difficult decisions will have to be taken", Lew reiterated.
"The debt of Greece is not sustainable", he said. "Greece needs (to get into) an orbit where the debt will become sustainable and a path to future growth", underlined the US Treasury Secretary.