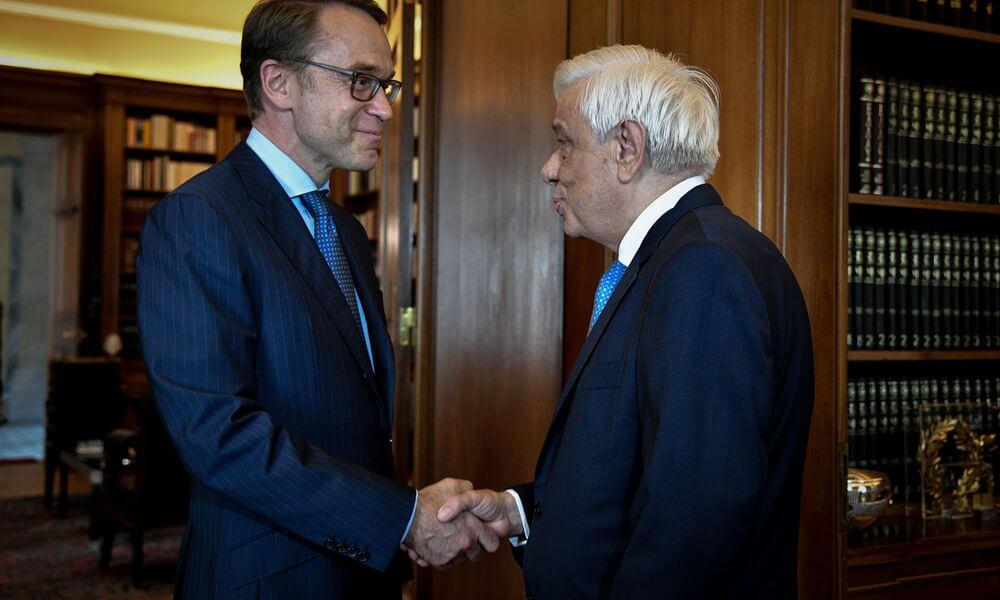 "Greece has gone through a long phase of adjustment – yes, we know it – and now comes a period that really needs to look for and find trust", said Bundesbank head, Jens Weidmann, at a meeting yesterday with the Greek President of the Hellenic Republic, Prokopis Pavlopoulos. The German banker stressed that "no doubt, we will stand by Greece, because it is also our interest that Greece develops, the people of Greece, the world in Greece to participate in this very development. Because, in the end, this will mean stability for everyone and for the Eurozone".
On his part, Prokopis Pavlopoulos stressed "the need" for the partners to support Greece in the new course, after the memorandums, for "development" and "social state".
He noted that "the Greek people paid for mistakes that were not his own. We know our obligations, we will keep them in full", Pavlopoulos said, referring to the new period following the memorandums, "but we believe that it is necessary for our partners to support Greece in this effort that is now taking in two directions ".
Beyond that, Mr Weidmann stressed the need to restore and maintain the confidence of the markets in the prospects of the Greek economy after the country's exit from the adjustment program, during the meal presented in his honour by the chairman of EET, Nikos Karamouzis, and the members of the Board of Directors of the Greek Banking Association.
The debate also focused on systemic banks' initiatives to gradually restore the regularity of the banking system, notably in terms of reducing non-performing loans and exposures./IBNA