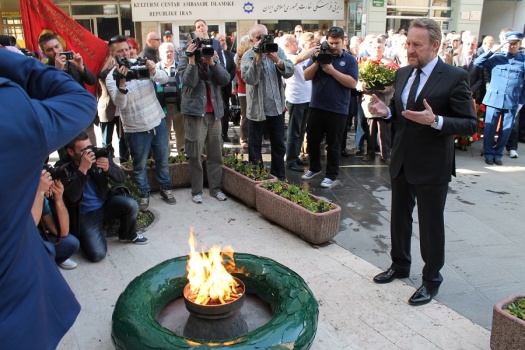 After International Court of Justice refused to accept the application for the review of the verdict in case of BiH against Serbia for genocide, Bosniak member of BiH Presidency, Bakir Izetbegovic, is under strong pressure to resign. It seems that some of the politicians in BiH hardly waited until the end of the case in order to remove Izetbegovic from his position in BiH Presidency but also from the position of Party of Democratic Action (SDA) president.
Right after the Court decision was revealed and it was made clear that Sakib Softic is a "former BiH agent in ICJ", Izetbegovic stated that this is not the reason that the Court refused to look the new evidence which, according to him, were sufficient for a revision. From the Court's standpoint, Softic had the status of the ordinary clerk without any legitimation to submit the application or any evidence. For the Court he was nothing more than any other passerby in that moment on the streets of Hague.
Izetbegovic didn't say that in May 2016 the Court sent a letter to Softic to inform him that he was no longer considered an agent of BiH and that he needs a new license issued from highest state institutions, in this case BiH Presidency. That was confirmed also in H. E. Judge Ronny Abraham's, President of the International Court of Justice, announcement in which he explained that Softic in May last year asked the Court whether he is still considered an agent of BiH.
"The Registry had received a letter from Mr. Softic, dated 25 May 2016, in which he enquired whether his appointment as the Agent of Bosnia and Herzegovina in the case concerning the Application of the Convention on the Prevention and Punishment of the Crime of Genocide (Bosnia and Herzegovina v. Serbia) was valid for the initiation of proceedings for revision of the Judgment of 26 February 2007 in that case. With a letter dated 26 May 2016, the Registrar informed Mr. Softic that a new appointment would be required. No document attesting to the appointment of Mr. Softic for the purposes of proceedings for the revision of the 2007 Judgment has been received by the Court", explained Abraham and added that the Court received two letters from BiH Presidency member, Mladen Ivanic, and BiH Minister of Foreign affairs, Igor Crnadak, which made clear that Softic or anybody else was appointed as the BiH agent in this case.
This letter clearly stated that Izetbegovic and Softic knew that BiH have no agent and that the application is going to be refused, but they continue with work on the application. Party for Better Future BiH president, Fahrudin Radoncic, explicitly demand Izetbegovic resignation from all state positions because, as he said, he hid the truth from victims of genocide. Radonic attended the meeting of experts and NGO representatives which took the place few days before Softic traveled in Hague.
"At the meeting Izetbegovic didn't say that Softic is not an agent. He hid the truth and cheated us all, experts and members of organizations which gather families of genocide victims and genocide survivors. That is why he must resign", said Radoncic at Friday in Sarajevo.
But Radoncic is not a lonely voice. Izetbegovic's resignation is demanded by most other political parties in BiH Federation as Social Democratic Party, Democratic front, Citizens Initiative and many others. Among those who expect his resignation is also the Serb Democratic Party (SDS), SDA coalition partner on state level. SDS president, Vukota Govedarica, said to media that the Court decision is the final "debacle of Izetbegovic politic" and called on him to resign. For some reason, Govedarica involved his opponent on RS level, Milorad Dodik, in the case. Dodik is president of Alliance of Independent Social Democrats (SNSD) and president of Republic of Srpska. According to Govedarica, Izetbegovic triggered the political crisis and Dodik tried to make it as deep as it was possible.
"Dodik called RS representatives on state level to abandon their offices until Izetbegovic withdraws the application. It could make irrevocable damage to RS", Govedarica said on Friday.
He added that Izetbegovic, for certain, will not resign because is convinced that he didn't do anything illegal.
Govedarica was right, since Izetbegovic said that he is not even thinking about resignation since he is "doing exactly what he was elected for" which is the protection of the Bosniak nation in BiH. Moreover, his SDA party is baking him and supportz his viewpoints.
According to latest information, this whole case will end but not like Softic expected. BiH Prosecution office announced that it will investigate Softic's role in this case since he acted as BiH agent but knew he had no legitimization. What's more, he was being paid for this job, with unofficial information speaking of several thousands BAM, probably more than 100 000. The verdict will be the real price for his sin./ΙΒΝΑ