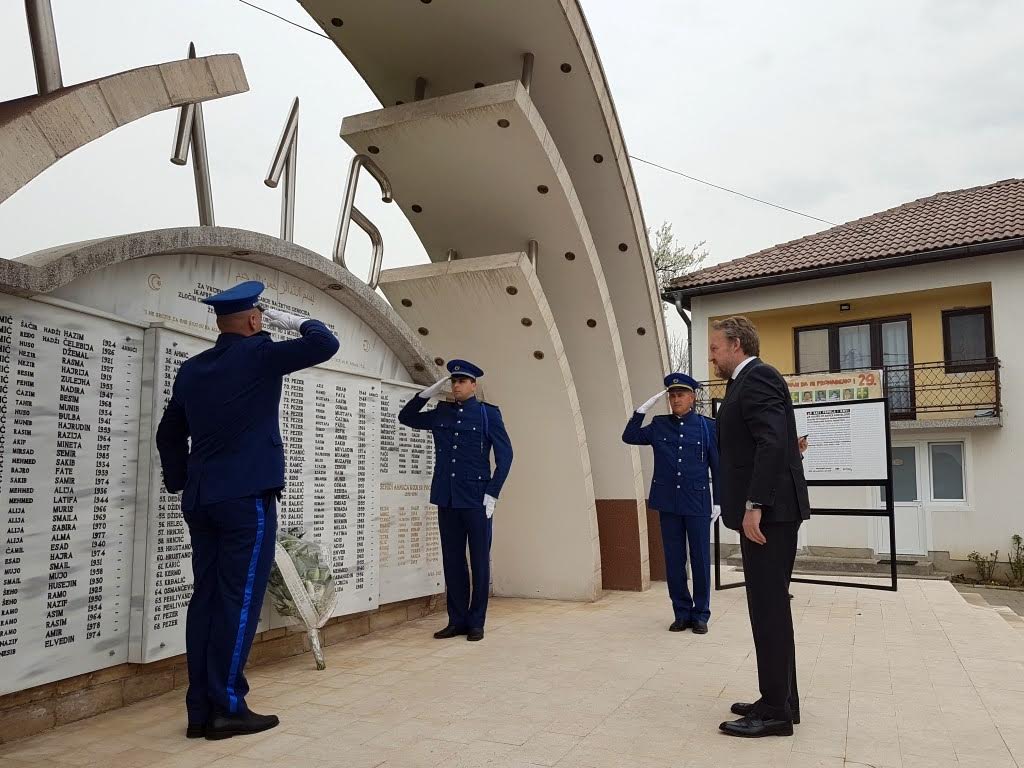 A few days ago the present Chairman of the BiH Presidency, Bakir Izetbegović, said in a speech in Ahmići village that Bosniaks will never again allow to be victims of war crimes, and that they are producing heavy weapons in order to defend themselves.
"We will produce a moving howitzer and we are already working on it. Also, we will create a mobile transporter, we have made a rifle, we will make the good tactical 12.7, multipurpose throwers of all possible calibre and all possible ammunition for it, and drones. So, we will be like that little man who is not big, but he is angry and well-armed, and everyone will have to think carefully whether they should get into conflict with him. They will never be able to knock on our doors again, without us having nothing to answer it with", Izetbegović said at a commemorative ceremony for 116 Bosniaks killed in 1993 by Bosnian Croat Forces (Croatian Defence Council – HVO).
Staša Košarac, Alliance of the Independent Social Democrats (SNSD) PM in BiH's Parliament, said that Izetbegović confirmed that his party, the Party of Democratic Action (SDA) controlled the military industry in Federation BiH.
A colleague of Izetbegović at the BiH Presidency, the Serb member Mladen Ivanić, said that the former's statements concerning a potential future armed conflict in BiH were not coincidental, but a deliberate provocation.
"Republika Srpska must seriously consider Izetbegović's threats and act on a few fronts. The first of them is to implement a strict control of the production and disposal of arms in BiH, in line with international agreements", Ivanić said to the media.
He stressed that, regarding this situation, he will contact the Peace Implementation Council, the international community institution that oversees the implementation of the Dayton Peace Agreement, so as to discuss Izetbegović's statements with them.
Ivanić added that statements like this one, which come from the leader of the biggest Bosniak party in BiH, fully justify the RS procurement of arms and combat gear for the RS Interior Ministry, when the Ministry acquired over 5,000 automatic rifles for its police units. He also said that the Izetbegović's statement aimed at scoring more points with his target electorate before the general election. Ivanić warned that it is alarming that Izetbegovic is thinking of a new war, instead of the economy, development and tolerance.
The Office of the High Representative (OHR) believes that there is too much counterproductive and provocative rhetoric in BiH, and that all public figures should choose their words carefully and responsibly.
"Public figures have the responsibility to contribute to peace and reconciliation," OHR spokesperson, Mario Brkić, said to the media regarding the statement Izetbegović made.
He pointed out that responsibility lies primarily on elected and government officials, as has been repeatedly highlighted in the reports of the UN High Representative.
Brkić stressed that the message is the same for all: BiH is a unique multi-ethnic sovereign country consisting of two entities, in which all citizens – the three constituent nations and others – live and work together.
The U.S. Embassy in BiH and other international organisations in the country also condemned the statement… / IBNA