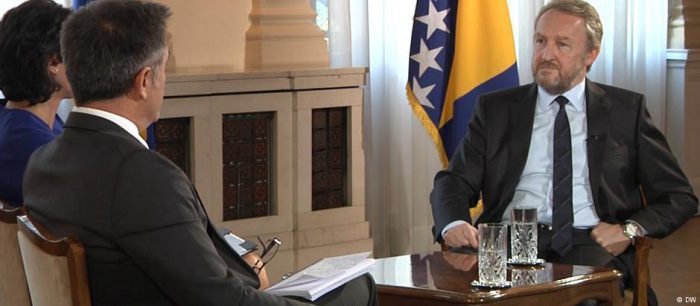 Speaking to the Serbian state news agency Tanjug and to Deutsche Welle (DW), Bakir Izetbegovic, a "Muslim (Bosniak) member of the country's tripartite presidency", as Tanjug wrote, was firm as regards to the recognition of Kosovo by Bosnia. He said that his country should have long recognised it, hopes it would happen but admits that if the two out of three parts of BiH say "no", then things cannot change.
Giving a controversial answer to Tanjug, which his adviser then clarified because it the way the agency had reported it "posed a political problem",  the Bosniak politician answered that he hopes Bosnia will recognise Kosovo and not that it will definitively do so.
Kosovo and its recognition, especially by Bosnia i Herzegovina is a long standing issue due to the latter's political tripartite nature. This means that if the two thirds say "no" to something, then it cannot be done or passed in parliament.
Exactly this is the case with Kosovo and Izetbegovic is well aware of it. "If Serb representatives in BiH oppose that and everything else, there is no decision", he said. Nevertheless, his statements have caused uproar, mainly in Serbia.
On Monday evening, Serbian Interior Minister Nebojsa Stefanovic spoke to TV Prva saying that "he expected Serbian President Aleksandar Vucic to call a National Security Council meeting within the next 48 hours.
'We will discuss the response of the Republic of Serbia. This introduces instability in the region, it is not a good-will gesture, and it causes additional divisions between the Serbs and the Bosniaks – and a lot has been invested to improve those (relations)," Stefanovic said, adding, "We'll hardly be able to continue as if nothing had happened', reports Tanjug.
As is the case, the relations between Belgrade and Pristina, especially from the moment Kosovo unilaterally declared Independence in 2008 and to the present day, are not yet restored but on a better path since 2011 when negotiations among the two parties kicked off in Brussels, under the EU umbrella.
Zorica Ilić i Bahri Cani, the DW reporters who interviewed Izetbegovic asked him also whether he is "Erdogan's man in the Balkans".
Belgrade (the presidency) and Pristina have not made any comments on the subject yet…/IBNA
Photo: Rubrike DW