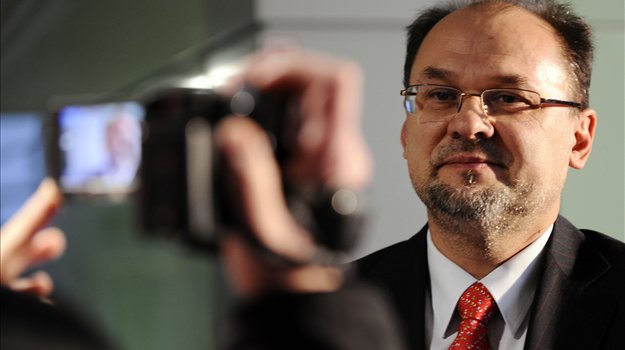 By Milos Mitrovic – Belgrade
Recently initialled agreement about normalizing relations between Serbia and Kosovo has been a historic one, and it could be compared with the end of the Cold War in Europe, European Parliament (EP) Rapporteur for Western Balkan Countries Jelko Kacin said. Kacin commented that prolonged conflict "between Serbia and Kosovo" during 80s and 90s lead to dissolution of the Socialist Yugoslavia.
In his interview for Croatian daily "Vecernji list" Kacin (photo)  sharply criticized the treatment of the Kosovo problem by previous Serbian Government. "Just until one year ago former Serbian President Boris Tadic has been inventing all possible and impossible reasons to evade his presence at the same time with the representatives of Kosovo at the international meetings. One year after, two Prime Ministers (of Serbia and of Kosovo) met ten times, also the meeting between two Presidents occurred, and the dialogue (about normalization of relations) advanced extremely", Kacin explained.
The reasons for "absences" of the former President at the international forums could be found in the fact that Boris Tadic "operated above the Constitution". On the other hand, new political garniture made more progress in the dialogue than it had been expected, because Serbia got "a real Government", Kacin said.
"Boris Tadic, while he was the President, degraded the position of the Government and made all decision by himself. After his inauguration, acting President Tomislav Nikolic resigned from the top position in his party (contrary to Tadic) and brought Serbia back to its Constitution. Today Serbia has a real Prime Minister Ivica Dacic and a real Government", Kacin rendered.
The ruling parties in Serbia arrived to a comfortable position, he added. "When they were opposition parties, they opposed to Serbian accession to EU. After they accepted the European option, the new opposition cannot vote against it", Kacin explained. The former ruling parties are vocal supporters of Serbian path towards EU also, similarly as they had been when they had power.
"According to this, I consider that we could say that Ivica Dacic had been a Richard Nixon of Balkans. Nixon was the only person who could open the dialogue between US and China and make a great breakthrough", Kacin said.