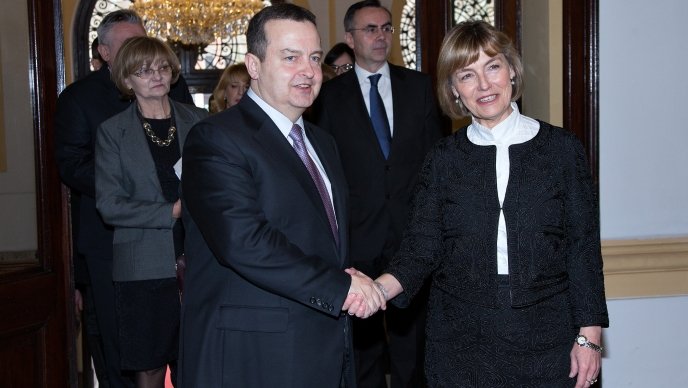 Zagreb, March 11, 2015/ Independent Balkan News Agency
By Marija Avramovic
First Serbian Deputy Prime Minister and Foreign Minister Ivica Dacic arrived in Zagreb on Wednesday on an official visit at the invitation of his counterpart Minister Vesna Pusic.
Parliament Speaker Josip Leko met with Dacic and in an interview with him welcomed the intensification of bilateral relations marked by mutual visits of senior officials, stated the Parliament earlier.
"Open issues must not be an impediment in relations", Leko said, adding that Croatia's true interest is Serbia's progress on its European path.
"The two governments should resolve these open issues, primarily the problem of the missing persons, the case of Veljko Maric, the Croat who is currently in Serbian prison for committing war crimes, and the position of the Croatian minority in Serbia", the President of the Parliament noted.
Dacic expressed the willingness to solve all issues in question, emphasising that all political leaders in Serbia wish to improve relations with Croatia.
When it comes to the border on the river Danube, Dacic reiterated the stance that Serbia is for the border line to be in the middle of the river, but also expressed eagerness to resolve this issue with an international arbitration, if needed.
Croatian Prime Minister Zoran Milanovic also met today with the first Deputy Prime Minister of Serbia  and discussed bilateral relations and open issues between Croatia and Serbia.
They confirmed the existence of political will for further development of relations between the two countries and also talked about the current situation in South Eastern Europe.
Unresolved issues from the past and future cooperation between the two countries were as well the topic of conversation between two Foreign ministers and by the end of the day Dacic will meet with the President of Croatia, Kolinda Grabar-Kitarovic.
Dacic was supposed to pay a visit to Zagreb in November last year, but the visit was postponed because the Croatian authorities resented Belgrade for not distancing itself from the statements of the accused war criminal Vojislav Seselj.