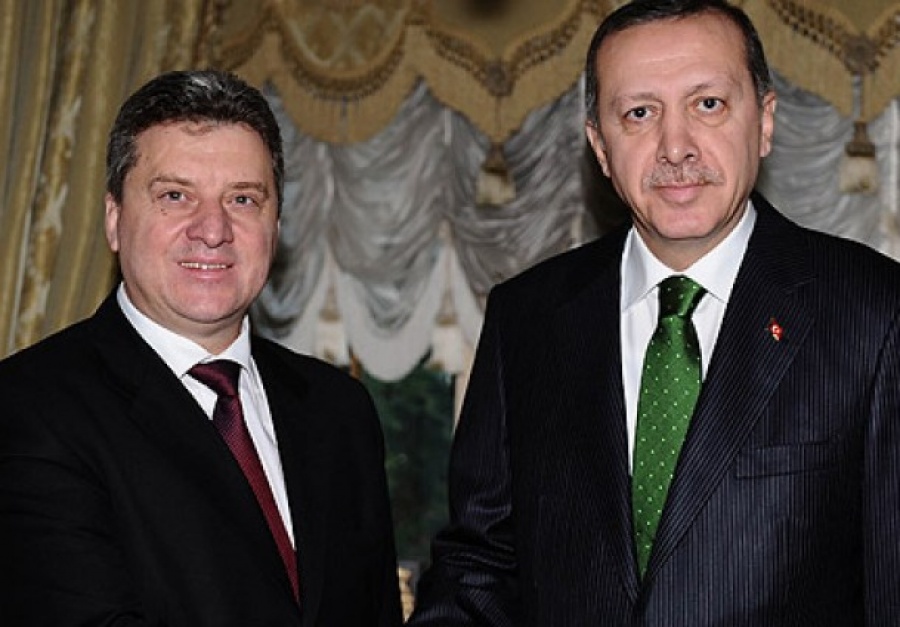 Eight days after the fYROMacedonian premier Zoran Zaev's visit to Ankara, the country's president Gjorge Ivanov made an official visit to Turkey after he was formally invited by the Turkish president, Recep Tayyip Erdoğan. 
Erdoğan expressed Ankara's total support to fYROMacedonia over the name issue during the joint interview he had with his counterpart Gjorge Ivanov in Ankara after their meeting.
"We have no doubt", Erdoğan said. "We are the country that recognised this country's constitutional name. We sent our ambassador there. Today and in the future, too, we will also be represented there. Turkey never had a two-faced policy. When we make a decision, we do not change our mind. Anyway, we do believe that if the two sides wish so, the name issue can be resolved." According to the Turkish head, his country aims at the betterment of the political and economic relations.
Ivanon expressed his satisfaction over the financial and military support Turkey is being offering to his country and spoke a future co-operation between the two countries' intelligence services, their police units and in the field of in-time-warning against threats.
Regarding the name issue, Ivanov thanked Turkey and noted that, "in the 21st century and based on UN principles, one country cannot be stopping the free will of another country. Also, intervening in identity, language and Constitutional matters makes the resolution effort harder. We are glad that president Erdoğan is by Macedonia's side."
Ivanov promised to fight Gullenist (FETO) supporters in his country, and justified Turkey's stance. "We are against every kind of terrorism", he said.
Before his dinner with his Turkish counterpart at the presidential mansion, Ivanov had met with Yildirim, with whom he discussed bilateral issues. 
"Here is your home; this is how I would like you to consider it. And I hope that our contacts will further improve the Turkey-Macedonia relations ", Turkey's prime minister Binali Yildirim said addressing the his fYROMacedonian counterpart Zoran Zaev. 
Turkey is one of the most significant investors in fYROMacedonia. Ever since 2011, the "Alexander the Great" airport which will be re-named, is functioning under the Turkish company TAV's management, that has all managerial rights until 2030…/IBNA