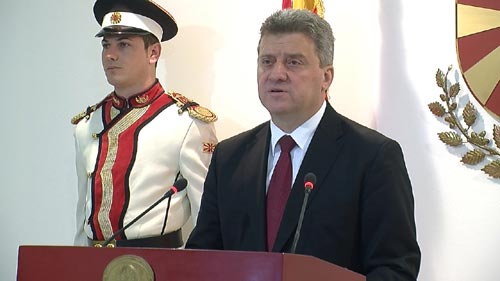 Skopje, February 25, 2014/Independent Balkan News Agency
By Naser Pajaziti
Current president of the former Yugoslav Republic of Macedonia, George Ivanov has confirmed today (25.02) that he will run for a second term in office.
His candidacy was delivered to the head office of the largest party in power, VMRO-DPMNE.
In a press conference delivered today, Ivanov confirmed his candidacy.
"With great pleasure and honesty, bearing in mind all challenges and perspectives that we have faced so far, with the desire to achieve further successes for our fatherland and for the interest of all the citizens, I'd like to declare that I have decided to run for a second term in office as president of the Republic of Macedonia and I will present my candidacy in the VMRO-DPMNE Convention", declared Ivanov.
Ivanov said that he's hoping to be chosen as the nominee for the biggest Macedonian party, VMRO-DPMNE in the March 1 convention.
According to him, his nomination has wide support from all communities.
"I believe that altogether, the citizens of Macedonia: Macedonians, Albanians, Turks, Serbs, Roma, Vlachs, Bosnians and others, Christians, Muslims, atheists, have the potential and capacity to make new decisions and we have shown this. I'm proud that along with my fellow countrymen, we have done a lot about the fatherland", said president Ivanov.
George Ivanov, law professor until 2009 entered politics as the candidate for president of VMRO-DPMNE party, proposed by several Macedonian intellectuals.
He won the elections in the run-off, insuring the votes of the Albanian community following an agreement between the two parties of the coalition, VMRO-DPMNE and Albanian party of the coalition, Democratic Union for Integration (BDI). /ibna/