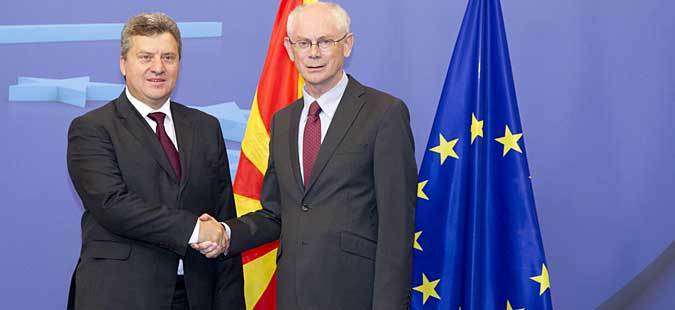 Skopje, May 16, 2014/Independent Balkan News Agency
By Naser Pajaziti
President of FYR Macedonia, George Ivanov has demanded the application of the Croatian-Slovenian model for FYR Macedonia in relation to the solution of the name dispute with Greece and the advancement of Euro integrating processes.
Mr. Ivanov's request has been put forward in a meeting held by him yesterday with the president of European Council, Herman Van Rompuy in Brussels.
"From the head of the European Council I demanded the Croatian-Slovenian model to be applied for the solution of the name dispute between Macedonia and neighboring Greece in order to push forward the Euro integrating process. Meanwhile, Rompuy demanded for the Serb-Kosovar case to be taken as an example in order to overcome the name dispute with Greece. This visit stressed our determination to be integrated in the European Union. European leaders addressed their advices to political leaders of our country in order for them to show a serious approach toward Euro integration processes", declared Ivanov after the meeting. He said that a joint news conference with Rompuy had been scheduled to take place, but this conference was cancelled due to the death of former Belgian prime minister, Jean Look-Dehen.
But, Rompuy's cabinet issued a press statement informing about the meeting between Ivanov and the topics which were discussed, stressing the messages of congratulations offered for the reelection of Mr. Ivanov for a second term in office.
"It's important to secure further stability and progress through dialogue. We praise the calls of president Ivanov to put political and personal interests on the side and we have encouraged his influence on all communities living in the country in the spirit of the Ohrid Agreement. We have also underlined the evaluation of OSCE/ODIHR for the efficient elections of April 27, but also the concerns for the need of the division of state activities from political ones and the neutrality of media", said Rompuy in the press statement released after the meeting.
The head of the European Council said that even difficult issues can be solved if there's political will. "Talks between Serbia and Kosovo are a solid proof that the hard compromises can bring true results. I want to express my respect for all the citizens of your country who strong support European integration", says the statement issued by Mr. Rompuy.
Yesterday, Mr. Ivanov also met with EU enlargement commissioner, Stefan Feule, while today, he will end this first visit held by him immediately after being reelected for a second term in office. /ibna/