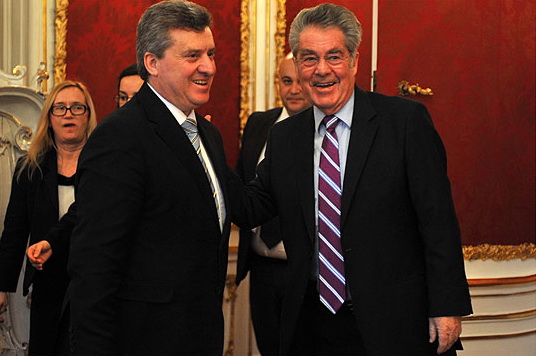 Skopje, December 3, 2013
Nobody will lose if FYROM starts the negotiations for EU accession. This was stressed today by the president of FYROM, George Ivanov in a meeting with the Austrian president, Heinz Fisher during a meeting in Vienna.
The Austrian president, Fisher declared that it's now time for FYROM to start its negotiations for accession in the EU.
"No country loses if the accession negotiations kick off", declared the Austrian president, Fisher. According to him, Austria is part of the friendly countries that support the start of negotiations for accession.
But, on the other hand, Fisher has demanded more efforts by authorities in Skopje.
"To meet the necessary criteria for accession doesn't mean that everything has been met and that efforts must continue to build a modern society, where there is rule of law and a fight against corruption", said the Austrian president. Ivanov has expressed his gratitude for the Austrian support in the Euro integrating aspect. President Ivanov is participating in the third annual meeting of the Center for Global Dialogue being organized in Vienna. /ibna/