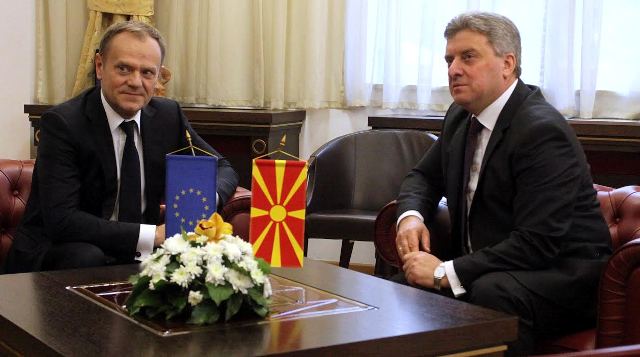 Skopje, 3 March 2016/Independent Balkan News Agency
By Naser Pajaziti
The European Union has turned its attention toward Skopje as the country is facing with a refugee crisis and mounting tension in the south of the country on the border with Greece.
The president of the European Council, Donald Tusk arrived last evening in Skopje and met with the president of the country, George Ivanov and after a meeting that lasted several hours, he left to Athens, avoiding the media.
As far as the meeting is concerned, president Ivanov's cabinet said that the two interlocutors discussed the finding of a joint solution for the refugee crisis.
The statement also says that Ivanov and Tusk said that there must be coordination of activities and assistance for the countries which are part of the Balkan route for refugees. Tusk expressed his readiness to support the country in facing the crisis, while promising assistance for the authorities in Skopje.
Ivanov said that FYR Macedonia will not allow refugee camps to be built in its territory.
Ivanov and Tusk have talked about capacities of the country, for the admission of migrants, the necessary aids for their treatment and also the efforts that are being done to build consensus for the management of the crisis in the framework of the summit with Turkey on March 7 in Brussels.
Meanwhile, the situation in the southern part of the border with Greece seems clear compared to the recent days which were accompanied by unrest, following the attempts of many refugees to cross the border to FYROM by force.
Authorities have reopened the borders to let refugees cross them, but small numbers and accompanied by police.
Minister of Interior, Oliver Spasovski said that the country doesn't have the capacities to cope with large numbers of refugees, while the border will be opened once other countries of the Balkan route do the same thing.
"Our capacities allow the crossing of only 500 refugees a day in our territory. But everything depends on the decision of the EU countries on their capacities and the assistance that they will offer for the transitory countries", Spasovski said.
In the border with Greece, there's a significant presence of police forces and military forces. Authorities continue to install new fences to prevent the illegal crossings of refugees. Meanwhile, on the other side of the border there are around 10 thousand refugees who want to enter FYR Macedonia. /ibna/