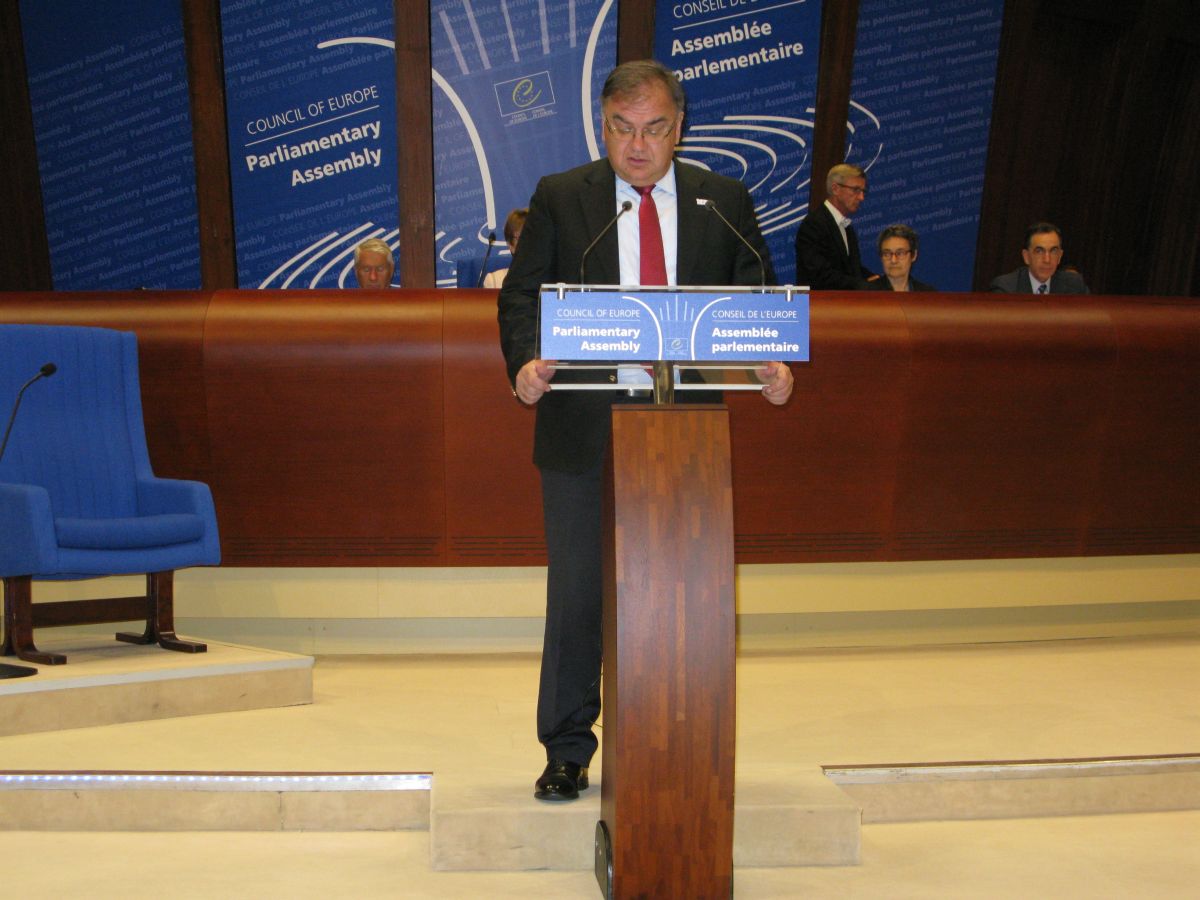 Sarajevo, June 24, 2015/ Independent Balkan News Agency
By Mladen Dragojlovic
Chairman of BiH Presidency, Mladen Ivanic, addressed on Wednesday the Parliamentary Assembly of the Council of Europe on its session in Strasbourg, saying that BiH is chairing the Committee of Ministers of the Council of Europe for the first time in its history.
"We started our Chairmanship a little over a month ago determined to perform our duties with the utmost responsibility and dedication. We cannot promise to be the best Chairmanship ever, but we can promise to do the best we can", Ivanic said in his speech.
He added that the situation in BiH is not ideal and there is still a lot to be done, adding that the Chairmanship of the Committee of Ministers of the Council of Europe is also an opportunity to underline the great progress the Region of South East Europe has achieved over the past two decades, most notably, the establishment of the friendly and well-coordinated cooperation between our countries, accession of Slovenia and Croatia to the EU, and the dedication of the rest of the region to follow in their footsteps.
Ivanic pointed out, however, that the latest dramatic events, namely the terrorist attacks in the heart of Europe, the humanitarian disaster in the Mediterranean, the fragile truce in Ukraine, is a reminder that security, democracy, human rights, and the rule of law "can never be, nor should be taken for granted". He added that there is a question how to overcome the crisis.
"I am of the opinion that the last Secretary General's Report on State of Democratic Security in Europe can give us part of an answer:
Full commitment of the member states to fully respect the conventions and values of this organization; The use of exceptional know-how and so called soft power of the Council of Europe, in order to intensify the struggle against hatred, intolerance, and radicalism; The full commitment by the member states to ensure that democracy, human rights, and the rule of law becomes an integral part of the European security system.
With that in mind I wish to express my support to the recently adopted Action Plan to fight the radicalism and terrorism by the Committee of Ministers, as well as the adoption of Additional Protocol to the Council of Europe Convention on prevention of terrorism relating to the issue of foreign fighters", Ivanic emphasized.
Ivanic also said that twenty years ago it was hardly imagined that BiH and Serbia would simultaneously chair the two most important European organizations in the field of Security, Human Rights, and the Rule of Law, the Council of Europe and the OSCE.
"However, that is the reality of today. Bosnia and Herzegovina and Serbia not only chair Council of Europe and OSCE, but have a close and straightforward coordination of their activities, all in order to have the best possible response to the emerging crisis our continent is faced with today", concluded the Chairman of BiH Presidency.