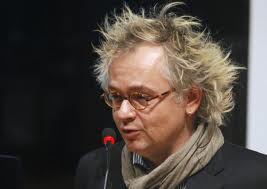 By Miloš Mitrović – Belgrade
Belgrade's Philharmonic director Ivan Tasovac would be proposed for the post of Culture Minister, Serbian Prime Minister Ivica Dačić announced on Wednesday. Tasovac confirmed his readiness to take the new position, Serbian media reported.
Tasovac is also supposed to lead Information department in the reshuffled Government, Dačić who is the leader of the Socialist Party of Serbia (SPS) explained. Previously, Maja Gojković from Serbian Progressive Party (SNS) congratulated Tasovac via twitter. Gojković was, according to media accounts, among the candidates for the Culture Minister: "Tasovac is the new minister definitely. Good luck".
Ivan Tasovac (47) is a pianist. He was Belgrade's Philharmonic director since 2001. His father Predrag Tasovac was actor and his mother Maria piano professor. He graduated at the "Pyotr Ilich Tchaikovsky" Conservatory in Moscow.
Serbian weekly "Vreme" chosen Tasovac a person of the year in 2011. He became popular as a TV show "I have a talent" jury member.
Despite the remarks from SPS officials which suggest that Tasovac cannot bring major changes into culture department due to poor budget support, artists were delighted by the news. "Tasovac has showed he is strong and capable manager. He is ready to define Serbian cultural policy", Branislav Lečić, an actor and former Culture Minister commented. "I believe that Culture Minister should always be an independent person, rather than member of any political party", Lečić emphasized.
Until Friday, SPS should propose the candidates for Sports Minister and Transport Minister. Jasna Šekarić, a sport shooter, who won a total of five Olympic medals, is among the candidates for the Sports Minister, "Danas" daily reported. SPS high official Branko Ružić could be appointed for Transport Minister. However, Aleksandar Antić, Belgrade's City official, is also among the candidates.
Earlier this month, SNS proposed McKinsey consultant Lazar Krstić (29) for the post of Finance Minister and Nebojša Rodić for Defence Minister. Rodić is currently head of Security Information Agency (SIA).
SNS cadres Igor Mirović, Dragan Glamočić and Saša Radulović should respectively be appointed as new ministers for regional development, agriculture and economy. Serbian Government reshuffling process, that started a month ago is to be finalized in the Parliament on Saturday.