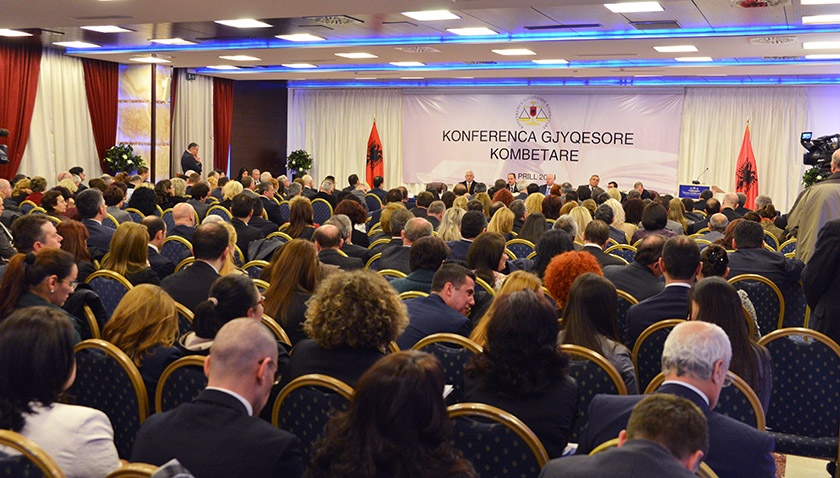 Tirana, July 11, 2014/Independent Balkan News Agency
In Albania, political attacks against the justice system made by the majority in parliament and the comments that followed by the opposition have triggered a public debate. These developments have been followed by an extraordinary meeting of the National Executive Council of the Judicial Conference. This Council said today that it's worried about the situation that has been created in the recent days concerning declarations and political stances in relation to the work, problems and performance of the judiciary system.
As the representing wing of the National Judiciary Conference, the Executive Council declared after the meeting that "it's extremely urgent to engage in strengthening the independence of the judicial system".
The meeting also came out with another engagement for the increase of efficiency, responsibility and accountability and also fight against corruption with zero tolerance.
Analyzing the strong declarations of the recent days, the Council says that in order to meet their objectives, parliament and the government have the necessary constitutional instruments for further reformation of the judicial system and adds: "But it's necessary to have collaboration with all operators of the justice system in this process".
"The judicial system supports these incentives, it backs reformation and it's ready to contribute for this important and vital process for the country", declares the Council.
The Council says that it expresses the concern of judges of all levels in relation to the public stances of recent days which address to all judges.
"Such declarations only deteriorate the image of the judiciary system and tarnish the daily work of judges. We must not forget that the majority of judges are responsible in their duty and work with commitment and integrity, facing pressure in a delicate and voluminous work, although they have to do with people who have problems with the law, people who are a menace to society, parties which are in conflict with each other, state, etc. The general association of judges with negative phenomena makes the work of every judge very hard, it threatens the independence of the judicial system and damages the mission of delivering justice", declares the Executive Council of the Judicial Conference.
The Conference calls on institutions and state agencies, media and public opinion to contribute in order to fight this ugly phenomenon which threatens the interests of the state and citizens. It also declared that this fight requires concrete action against responsible individuals, by respecting the Constitution and the law and without making degrading generalizations.
The Executive Council of the Judicial Conference warned that based on this situation, it also examined the possibility of convening the National Judicial Conference. /ibna/