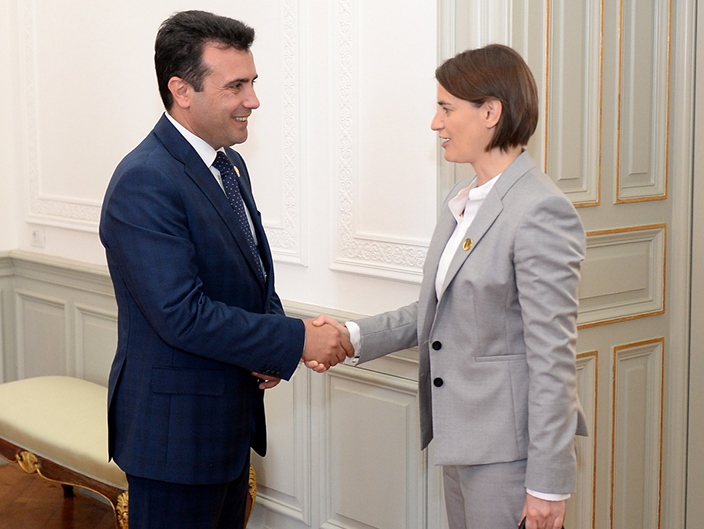 By Nikos Fragopoulos of the Skopje News
Prime Minister of fYROMacedonia, Zoran Zaev, in an interview with Belgrade's Politika newspaper, said on the name issue that the time has come to close this long-standing dispute.
"With Greece, we began to build relationships of mutual trust and respect, and this has the support both in our countries and at international level. I also see this sense of responsibility in the Greek leadership and it is time to close this long-standing conflict that is holding back the Euro-Atlantic progress of our region in general. So I want to believe that everyone will assume the share of responsibility that corresponds to him to solve this issue", Zaev says in the interview.
The PM of fYROMacedonia made on 20-21 November a two-day official visit to Belgrade, where he had friendly talks with Serbia's political and state leadership.
At the meeting with his Serbian counterpart, Ana Brnabic, it was agreed to intensify contacts at the political level, so that all the problems that come up be solved by direct dialogue to avoid misinterpretations and misunderstandings. The two prime ministers also agreed to hold the first intergovernmental conference of the two countries next spring.
On an economic level, the need was expressed for widening cooperation on infrastructure projects such as the completion of the E-75 road, the modernization of the railway network linking Skopje with Belgrade and the construction of a gas pipeline from Kumanovo to the city of Vranje in the south Serbia.
As the prime minister of fYROMacedonia pointed out at a joint press conference of the two leaders, his country considers Serbia a strategic partner in the region and seeks close cooperation at both bilateral and regional level.
Zoran Zajev also met with Serbian President Aleksandar Vucic, with whom they examined issues related to the completion of the European course of the two countries, the simplification of the border control process for citizens and goods and the co-operation of construction companies for joint exit in third markets. During this meeting it was jointly established that cooperation between the two countries is a guarantee of stability and peace in the region./IBNA