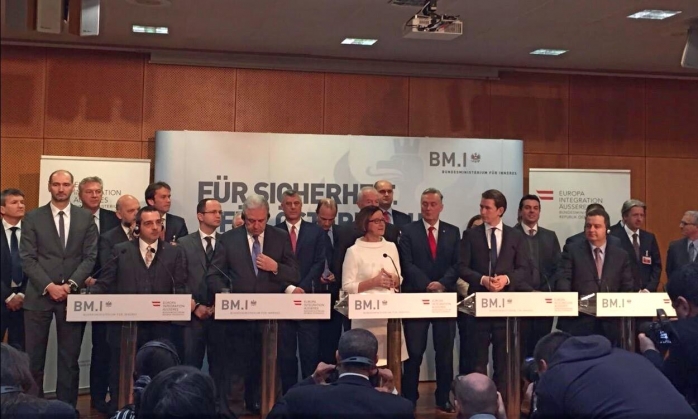 Tirana, March 23, 2015/Independent Balkan News Agency
Albanian minister of Interior, Saimir Tahiri participated today in the international conference taken place in the past few days in Vienna, Austria on the fight against terrorism. The conference gathered Interior and Foreign ministers from west Balkan and the EU Commissioner, Avramopulos.
The scope was to focus on the efforts to prevent people from leaving European countries in order to participate in armed conflicts in Middle East, being ranked on the side of the Islamic State.
The ministers from participating countries stopped and discussed different aspects of the fight against jihadism.
Albanian minister, Saimir Tahiri said that it's necessary to have a de-balkanization of the Balkan.
"Often, national and political interests may harm regional cooperation and interest in the fight against terrorism. It's necessary to have a de-balkanization of the Balkan. This is only achieved by including the Balkan region in a joint agenda with EU countries in the fight against terrorism", said Mr. Tahiri (photo).
Tahiri made a concrete proposal for de-balkanization: "My proposal for this scope is concrete. Interior ministers of the countries of West Balkan must participate in periodical meetings of Interior and Justice ministers of the EU. This is the only way to properly address joint fights against terrorism and this, on a higher political level, because terrorism doesn't want to know of one country is a EU member or not. Therefore, we must do our best to remove these obstacles".
The Albanian Interior minister considered fight against terrorism as a very important issue, by stressing that an operational plan must be put in place now. "It's necessary to create joint investigation groups between the countries of the Balkan region and between us and the EU member countries, in order to address the same problem without border obstacles", said Tahiri.
Recently, Albanian authorities have started a similar cooperation with Italy and Kosovo. /ibna/