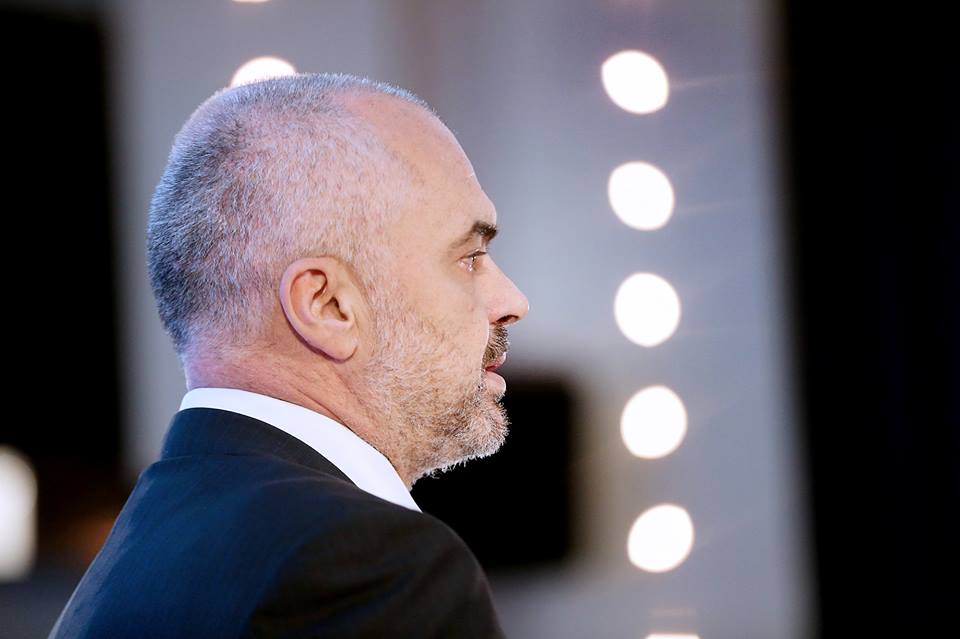 By Edi Rama
Prime Minister of Albania*
Perhaps we ought to be flattered that little Albania has become central to Britain's Europe debate. But when I saw the story of Michael Gove's suggestion that Britain could abandon its partnership with Germany, France and other EU countries and instead enter into a non-EU partnership with Albania, Kosovo, Serbia and Bosnia, my immediate reaction was: "Isn't that a bit weird?"
While I am a proud Albanian and a proud Balkan, I would not make a claim that we have either the political or the economic muscle to see ourselves as a rival to the EU, which has helped deliver peace and prosperity to so many, for so long. A bloc whose single market is one of the most remarkable trade arrangements anywhere in the world — and in any period of history.
So I thank Mr Gove for giving us a welcome dose of publicity as we launch a pre-summer tourism campaign to attract British holidaymakers to our historic cities and beautiful beaches, and as we reach out to investors to come and see the big improvements we have made, the great opportunities our county offers to invest. Britons coming here will be able to join Albanians in following the fortunes of our football team taking part in our first major tournament, the European championship finals in France. These are good times to be an Albanian.
But I am not convinced that it would suit either our or Britain's 21st-century needs to create this new BBC, the British-Balkan Confederation. Or that it is right for Britain to look at Albania as a model of a relationship with the EU. Indeed I am convinced it would be wrong for Britain to do so.
What is particularly peculiar about Mr Gove's comments is that he made them just as in Albania — government and opposition together — we are setting out the historical justice reforms we must make to be compatible with an EU system we admire so much. While he and fellow Brexiteers want out, most countries on the edges of Europe want in, because we know the remarkable benefits there have been to EU countries such as Britain.
If it was odd that Mr Gove singled out Albania as a model for the post-Brexit British economic settlement, it is odder still that he wants voluntarily to leave a union that seems to have given Britain so much.
Even without Albania being a member, the EU is having an influence for good on my country and on all the nations Mr Gove has indicated as potential non-EU allies for a post-Brexit Britain.
Not only does the EU have ideals and values that we aspire to, but the aspiration to join the EU across the region has made the impossible possible. It is because of this aspiration that we have changed our long history of wars and bloody conflicts, and entered a new era of peace and cooperation. It is because of the aspiration to join the EU that I went to Belgrade in 2014, the first visit of an Albanian prime minister in 68 years. And it was the same aspiration that brought prime minister Alexandr Vucic to Tirana, for what was the first ever visit by a Serbian prime minister.
We do not want to maintain the status quo. While we work hard in taking the many further steps towards EU membership, we enjoy none of the benefits that Britain has, benefits Britain would lose if it came out. We have only limited access to the EU's market in services, and no passport for financial services. Our banks cannot operate across Europe, as British and British-based banks can. We are outside the EU's customs union, meaning that we face costly red tape and rules of origin for exporting businesses.
The EU eliminates all tariffs and customs duties on Albanian industrial goods. But while our wine and our beef is among the world's best, because the EU maintains WTO most-favored nation tariffs for several agriculture products and permanent quotas for several fisheries products, exports to the EU are limited. Tariffs also apply to some fruit and vegetables. And we do not have access to the EU's external trade deals. So when the EU lands a great trade deal, for example with South Korea, we do not benefit. In future, were you part of the Balkan bloc rather than the EU, nor would you.
Crucially, as a country aspiring to EU membership we have to align fully with the EU's rules in the areas covered but have little or no say or votes over these rules when they are made. We have to adopt EU laws in a range of areas, including competition, intellectual, industrial and commercial property rights, public procurement, standards and certification, financial services, maritime transport, company law, accounting, consumer protection, data protection, and health and safety at work. The list goes on.
We are willing to accept these conditions because we believe that, in partnership with the EU and its leading members such as Britain, we can reform our country, eventually gain full access to the EU's single market, and in the process improve conditions for our citizens. Countries across the Balkans have seen not only their diplomatic ties improve but their living standards increase as a result of the reforms that the EU has encouraged. We hope that will continue.
The final point is that to achieve the current stage of Albanian-EU trade relations took six years of negotiations. Britain would, of course, start from a different position from Albania. But having negotiated with the EU from the outside, I can see how any post-Brexit UK negotiation with the rest of the EU could be dragged out. I have heard Mr Gove's side say this will all be resolved within two years. This is unrealistic in the extreme, as unrealistic as his BBC.
I firmly believe that Albania has a prosperous future ahead because of the reforms we are overseeing and as we gain further access to the EU's single market. We have appreciated the support of the UK government on this path. I believe Britain's help in securing further reforms here, including judicial reforms on which many British experts advise us, will smooth the path to eventual EU membership. But I cannot believe it can be in Britain's interest to look for a model in Albania or to emulate the current status of Albanian-European relations. We are not ourselves interested in the status quo. Why would anyone in Britain be?
It is, of course, for the British people to decide if they want to stay or leave the EU. But the impact of their decision will go far and wide. As a friend and admirer of Britain, I really hope you will vote to stay. There is no British-Balkan Confederation, nor will there be. The Albanian-EU relationship is not a model for Britain to emulate. Take it from us, we live here. I am convinced that Britain staying in the EU will be good for Albania and good for Europe. I am equally convinced it will be good for Britain. Millions of people across Europe and beyond are urging the people of Britain: Please don't go.
*Editorial published in the official Facebook page of KM Rama. Published in The Times