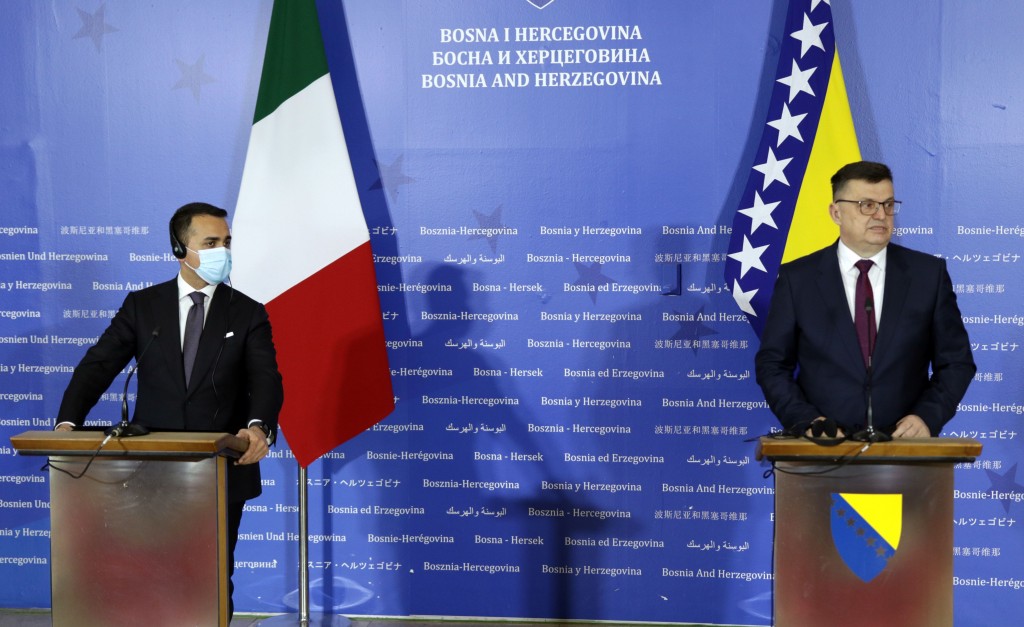 Chairman of the BiH Council of Ministers Zoran Tegeltija stated after his meeting with the Minister of Foreign Affairs of Italy Luigi Di Maio in Sarajevo that relations between the two countries are good, friendly and without any open issues.
Addressing reporters after the meeting, Tegeltija said that economic relations between BiH and Italy are very developed, while in the coming period they should work on improving cultural cooperation and economic relations.
He added that he shares with his interlocutor an almost identical opinion on the EU expansion to the Western Balkans, while both also agree that bilateral cooperation at the highest level is not very satisfactory.
"Problems regarding vaccination and migration were discussed. It turned out that pharmaceutical companies did not comply with the obligations deriving from vaccine procurement contracts either through the EU mechanism or through the COVAX mechanism, but we expect significantly larger deliveries in the second quarter," Tegeltija pointed out.
Minister Di Maio stated that the two countries are connected by deep and friendly ties, expressing his gratitude for the solidarity BiH showed when Italy was going through very difficult moments due to the pandemic.
He said that it is necessary to push vaccine procurement agencies to respect the contractual obligations towards Italy and others.
"After today's meeting, there is an evident need to continue working on the development of the already excellent cooperation, especially economic, as Italy is placed high on BiH's list of trade partners," Di Maio added.
He also announced the strengthening of cultural cooperation with the opening of the Italian Cultural Institute in BiH in 2022.
Di Maio emphasized Italy's support for Bosnia and Herzegovina's efforts to join the EU, adding that he hoped all requirements are met to gain candidate status.
During his two-day visit to BiH, Minister Di Maio also met with members of the BiH Presidency, the leaders of both houses of parliament, the High Representative of the international community and the EUFOR Commander. /ibna