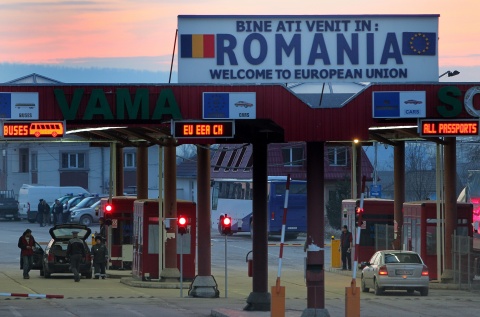 Bucharest, April 28, 2015/ Independent Balkan News Agency
By Daniel Stroe
Romanian President Klaus Iohannis, who's on an official visit to Rome, today met Italy's Prime Minister Matteo Renzi, who reconfirmed Italy's support for Romania's accession to Schengen, at a time when the former communist country's chances to join the borderless area seem to grow dimmer.
"Once more was reconfirmed the fact that Italy has supported and continues to support Romania's demarches for the accession to Schengen," official sources quoted by the state news wire Agerpres pointed out. They also mentioned that people are increasingly more aware of the fact that Romania's joining Schengen represents a factor that can bring an added value to the EU capacity of dealing with migration.
According to the same sources, during the meeting with the Romanian head of state, Renzi said that Romania's accession to Schengen is not only in Romania's interest, but also in Italy's and the European Union's interest. The sources say "there are reasons for optimism in saying that steps are being made this year concerning Romania's accession to Schengen."
Iohannis began his official visit to Rome on Monday, meeting with his Italian counterpart, the Senate President and representatives of the Romanian community of Italy. He will conclude his foreign visit with a meeting with Romanian students on scholarship in Italy. Iohannis will meet Pope Francis on a different visit to Italy.
In the same context of the Schengen accession, Romanian PM Victor Ponta today said, while in Strasbourg, that Romania and Bulgaria should be treated like all the other 26 member states of the European Union as regards the Cooperation and Verification Mechanism (CVM) on the Judiciary, the instrument by which the European Commission gauges progress made by Romania and Bulgaria in the field of justice and home affairs. He said the same opinion was voiced by the Romanian justice minister and by President Klaus Iohannis.
According to Ponta, Romania has fulfilled most of the obligations it assumed upon joining the EU, and the country's justice is now independent and functional. He said an equal CVM should be applied to all the EU member states, as proposed early after the European Commission led by Jean-Claude Juncker began its term, so that clear rules apply to the Judiciary, to the rule of law and to the fundamental freedoms and rights. "We're an EU member equal to all the other. Some cannot be more equal than the others," the prime minister answered media questions.
Many countries that oppose Romania's and Bulgaria's accession to Schengen argue chances are proportional with progress made in the field of justice reform and point to the CVM as the guiding document. Despite progress made by Romania, reticence persists in Western chancelleries, especially amid a surge in illegal immigration and terrorism in Europe.