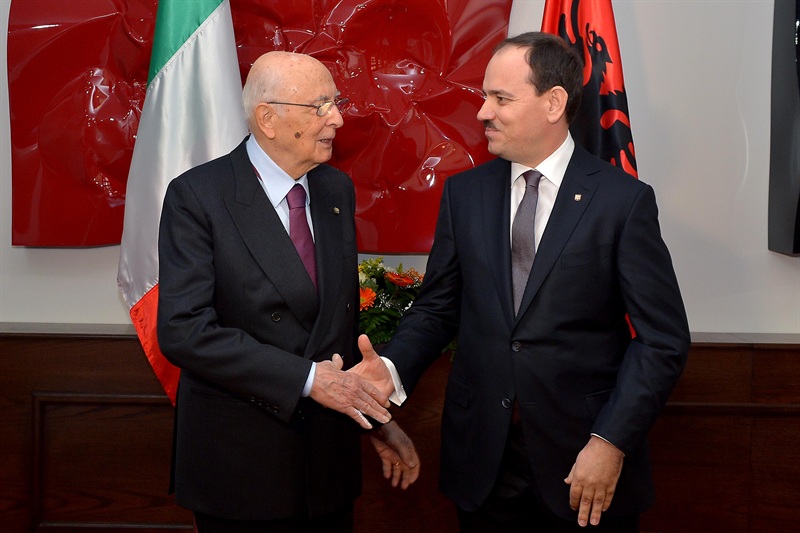 Tirana, March 5, 2014/Independent Balkan News Agency
Italy will be Albania's advocate in the process of accession in the European Union, says the President of Italy, Gorgio Napoletano, who started an official visit today (05.03) to Tirana.
Mr. Napolitano (photo) met with his Albanian counterpart, Bujar Nishani and following the bilateral talks, they delivered a press conference.
"We will continue to be Albania's advocate and we're convinced that we will win Albania's cause for EU accession, following its integration in the NATO", said Napolitano.
Napolitano also called on Albanian political forces to cooperate in an efficient way in order to present the country in a decent way in front of international institutions.
"It's important for political forces to unite in order for Albania to be presented in a decent way in front of international institutions", said Napolitano.
On his part, president Nishani said that the granting of the EU candidate status to Albania marks an important milestone for Albania, which anticipates the launch of negotiations.
"We consider the granting of the EU candidate status as an important milestone in a journey which requires deep and complete reforms, especially involving the rule of law, in order for us to be prepared for the launch of negotiations", said Nishani.
Rama: New challenges in the region
During his visit to Albania, Mr. Napolitano also met on Wednesday afternoon with the prime minister of the country, Edi Rama. President Napoletano praised the work of the Albanian government and assured Mr. Rama that "Italy will be on Albania's side".
The meeting also praised the role and contribution of Albania in the region. "100 years after the start of the First World War, the Balkan is living an entirely different situation. The joint European perspective of the Balkan is clear and closer today, although this requires new responsibilities in front of new challenges in relation  to the development and prosperity of the region", said Rama.
In his official agenda, Napoletano will also hold a speech in the Albanian parliament and meetings with Italian entrepreneurs who work in Albania. Napoletano will also be honored with the "Medal of the National Flag" by president of Albania, Bujar Nishani.
Photo credit: Italian president's office