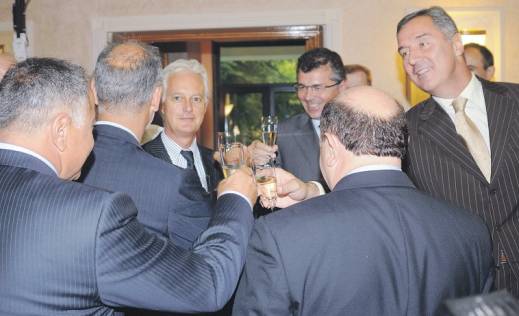 By Adnan Prekić – Podgorica
After two days of negotiations, the Government of Montenegro and the Italian company A2A, will continue their cooperation after the end of the current five-year contract. Although details of the new agreement are not yet known, the two sides are satisfied with the extension of the collaboration.
The Italian company A2A in 2009 received ownership of half of the shares of the state power company (EPCG) for €430mln. The Italians were given the right to manage the company. The plan in 2009 envisaged the possibility that in 2014, with the fulfillment of certain conditions, the Italians will take the majority of shares in EPCG.
Problems in cooperation began a year ago. The Aluminum Plant, which was facing bankruptcy and is state-owned, was not paying its electricity bills. The government, in turn, approved the EPCG to not pay taxes and other state taxes. This has led to accumulation of debt in both sides. The Aluminum Plant owed ​​EPCG approximately €45mln, while on the other side the EPCG tax debt, according to government, was approximately €50mln.
EPCG's non-payment of the tax debt had caused political instability in June of 2013. For the smaller member of the governing coalition, the Social Democratic Party, the fact that the Italians do not pay their tax debt is unacceptable. They specifically asked from the Ministry of Finance that A2A pay taxes and bear the responsibility for selling electricity to the Aluminum Plant, who was facing bankruptcy. The Social Democratic Party claimed that Italians must take responsibility for selling electricity to the company who was not capable to pay its debts.
The Ministry of Finance, faced with the demands of the public, dropped out of the tax debt exemption to EPCG. It was also announced that energy companies must pay back taxes. Italians were opposed to such a decision. They threatened to withdraw from the ownership in EPCG and announced a lawsuit against the state. After months of negotiations, both sides have eased and signed an agreement, in order for the cooperation to continue under the new terms. The most important part of the agreement is the conversion of the debt in the energy company's stocks.
The state withdrew from the collection of the tax debt, which amounted to €50mln. With this, the state ownership in EPCG increased to 55%. An important part of the agreement is to cancel the contract clause from 2009, which predicted for A2A, after five years to receives the majority of the shares. The new contract did not include this possibility.