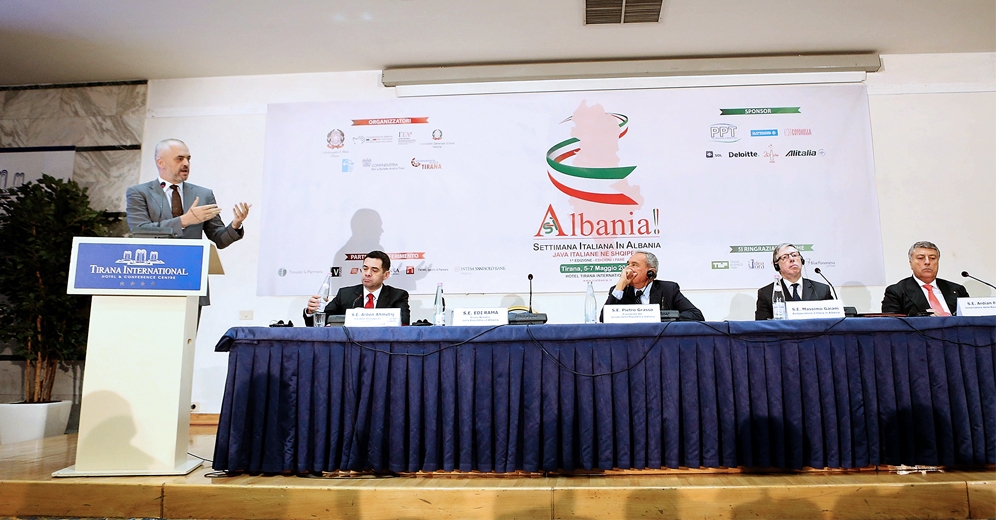 Tirana, May 6, 2014/Independent Balkan News Agency
With the support of Albanian institutions, Italian authorities have started yesterday the Italian Week. This is an event which will take place from 5 to 7 May. In the past, Italian Week in Albania use to last several weeks and consisted on a variety of activities.
Prime minister Edi Rama and president of the Italian Senate, Pietro Grasso, opened the Week of Italian business in Albania and said that this event aims to present business and investment opportunities that Albania has to offer.
Prime minister Rama says that 20 years after the exodus of Albanians toward Italy, the Albanian reality is different to that of the Albanian emigrant who was in search of opportunities in Italy.
Minister Ahmetaj said that "the Italian week shows once again that our two countries have all opportunities to further boost cooperation".
Present in this event are 170 businesses, out of which 140 are new. They have been invited to look into possibilities of investment in Albania.
"I hope that all 170 businesses go back to Italy with the conviction that Albania is the right place to do business, because the Albanian government is a committed partner to do everything  in order to help you and in Albania, you will find yourself at home", said Mr. Ahmetaj.
In the recent years, relations between Albania and Italy have expanded, in spite of the crisis.
From 2008 to 2013, trade relations with Italy saw a significant boost in both value and volume. Thus, from 64.8 billion ALL in 2009, exports in 2013 went up to 114.1 billion ALL. Also, imports have also increased from 112 billion ALL in 2009 to more than 170 million ALL in 2013. /ibna/