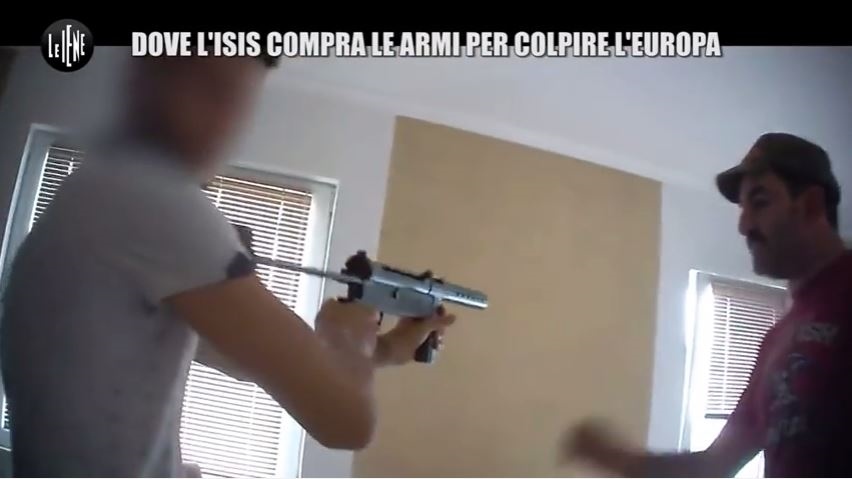 Sarajevo, October 6, 2016/Independent Balkan News Agency
By Mladen Dragojlovic
State Investigation and Protection Agency of Bosnia and Herzegovina consider the filing of criminal charges against Luigi Pelazza, a journalist of the popular Italian show "Le Iene", who made a story named "Where ISIL buys weapons to attack Europe". The theme of this story was the sale and purchase of illegal weapons in Bosnia and Herzegovina.
Charges against the journalists, among others, may be adjusted due to the unauthorized shooting in BiH, media reported on Thursday.
Pelazza came to Sarajevo to buy weapons, and he succeeded. The story was aired in the program Italy 1. The case attracted the attention of BiH security institutions. Pelazza made the story with Bih weapon smugglers, but didn't present himself as a journalist. In Mostar he purchased a rifle and in Sarajevo several pieces of different types of weapon. One of the sellers on the tape said to Pelazza that he recently delivered large number, about 500, of AK 47 to countries in West Europe, most of them in Holland.
According to Pelazza, he first traveled to Sarajevo where he had a meeting with a man who said that he could get him any weapon he needed. His host told the story about weapon smuggling and how he was in Italy for years, where he has a criminal record. He told the Italian journalist that his weapon can reach the price of two kilograms of cocaine on the black market. He sold various weapon to Pelazza and then the journalist went to Mostar. There he succeeded in purchasing a rifle and then he was invited on the place about 15 kilometers far from the city to try the weapon. He had the chance to shot from various kinds of rifles and guns.
In the end the host explained to Pelazza where to hide the weapon in the cat in order to smuggle it to the European Union, where are the secure borders crossing and which smell to use to prevent dogs from detecting the weapon. Pelazza successfully passed all these problems and made a story about this issue. Reportage triggered the big "thunderstorm" in security agencies and SIPA was ordered to investigate the case. Two men were arrested in Sarajevo on suspicion of involvement in illegal arms dealing. SIPA announced that they were recognized on the tape as the persons who sold the weapon to Pelazza.
The investigation was conducted in cooperation with Bosnia's border police at the request of the state court, and the two men were apprehended after the police searched a building and found evidence.