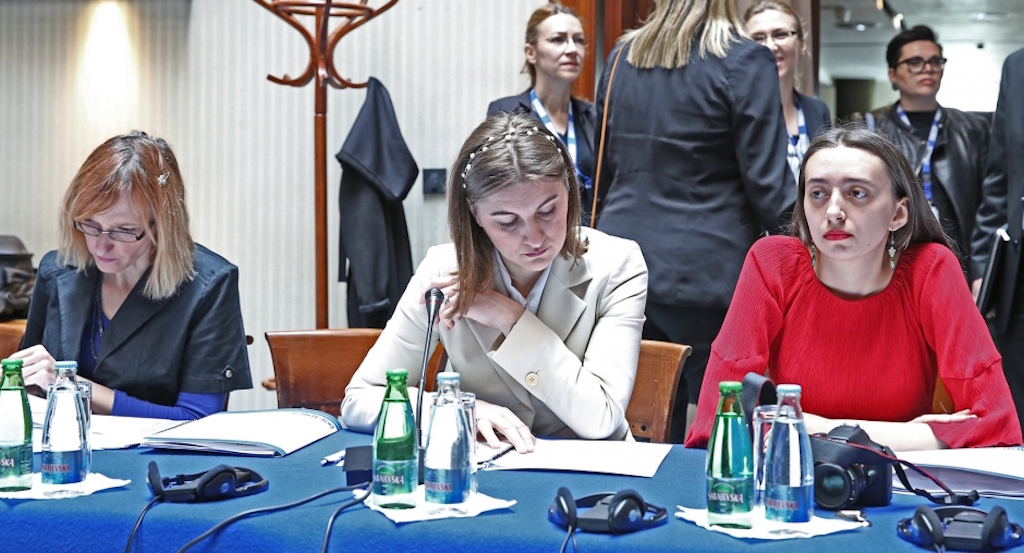 Participants of the two-day conference "Status and Protection of Women Journalists in the BiH Media" in Sarajevo concluded that women journalists in Bosnia and Herzegovina (BiH) are frequently subjected to gender-based and other forms of unequal treatment, harassment and threats while carrying out their professional duties.
The conference was organised on Tuesday and Wednesday (May 15 -16) by the BiH Journalists'Association in co-operation with the OSCE Mission to BiH and the NGO Civil Rights Defenders.
"The problems that women journalists are facing in Bosnia and Herzegovina undermine not only freedom of expression and freedom of the media, but also gender equality, which is why there is a need for women journalists to network and strengthen their solidarity as an interest group.  Women journalists are frequently subject to harassment and threats, both online and offline. These issues need to be addressed", the Head of the OSCE Mission in BiH Bruce Berton said.
He expressed continuous readiness by this organisation to contribute to the protection of female journalists' rights in BiH.
As it was announced by the OSCE Mission to BiH, the Swedish Ambassador to BiH, Anders Hagelberg said that the large number of cases of gender-based attacks against female journalists, registered by the Help Line for journalists, are only part of the reason for considering the idea of establishing a network of women journalists as a platform for solidarity and fighting for their freedom and protection.
Ena Bavčić, Civil Rights Defenders Programme Advisor, stressed that although attacks against honour, reputation and physical integrity of women journalists are not treated as life-threatening, they still inflict significant damage of a professional and personal nature. "This is the right time to start thinking about the position of women, not only within the journalistic profession but also with respect to their civil and political rights. Women journalists need to be empowered to report such attacks, meaning that the private manner of confrontation with women journalists has to be transferred to the public sphere", she said.
The BiH Journalists' Association's research study on women and the media entitled Women Employees and Managerial Structures was also presented at the conference. The author of this study, Amer Džihana, pointed out three main problems in the context of women and media: the absence of women from the most serious news content, the manner of representation of women in the media and employment and advancement of women within the media industry.
"Women's share of top managerial positions in BiH media is 25.3 per cent, while men hold 74.7 per cent. The biggest imbalance in terms of managerial positions is in the TV sector, where women hold only 15.8 per cent of top managerial posts", Džihana noted.
He added that the largest share of women as editors-in-chief is found in the radio sector (44.7%), while they are least represented in online media, with 21.7 percent of women appointed editors-in-chief…. / IBNA
Main Photo: Female participants of the event / OSCE/Vedran Pribilovic