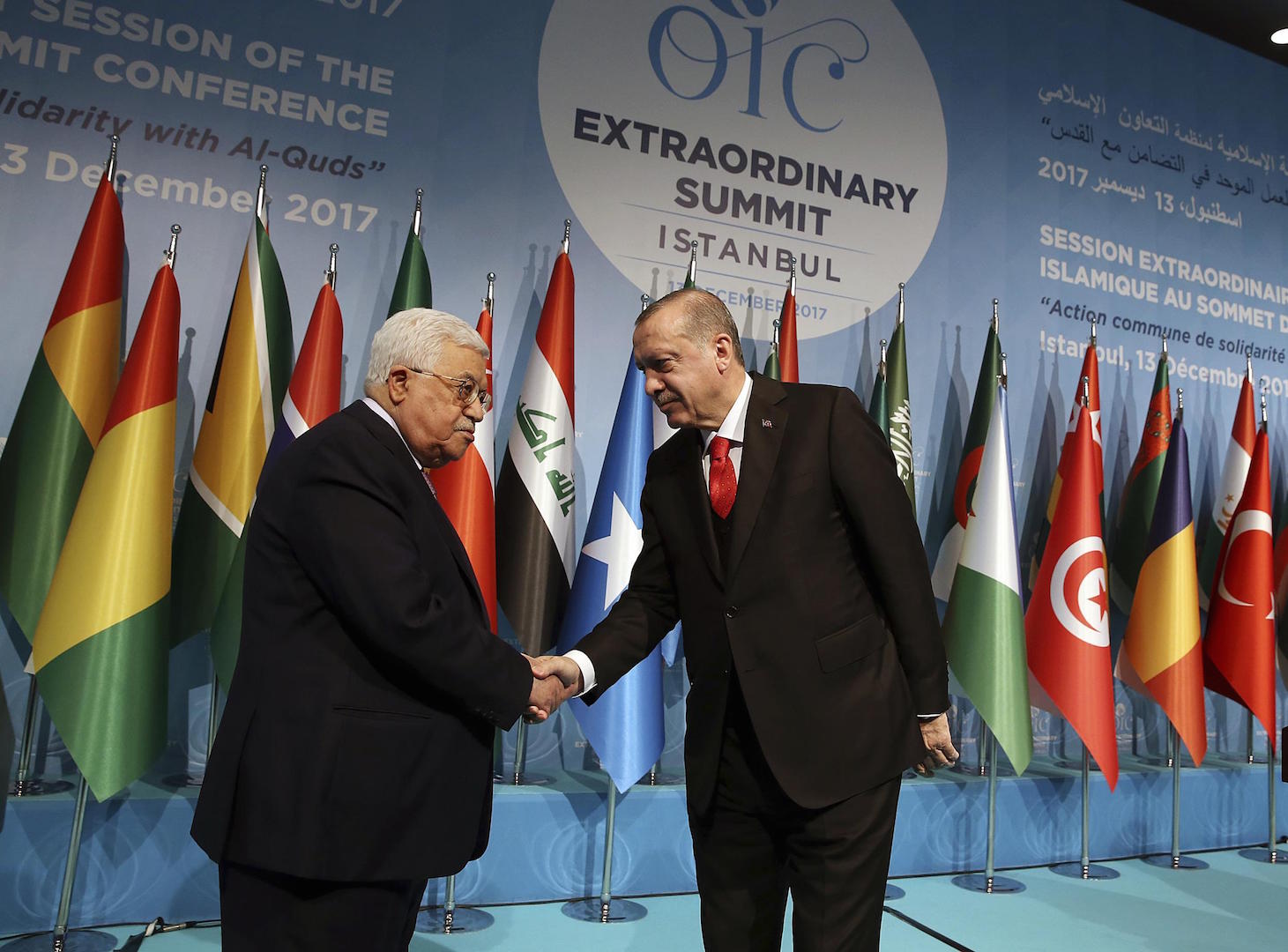 The Organization of Islamic Cooperation (OIC) will hold an extraordinary summit in the Turkish capital, Istanbul on Friday to discuss "the latest serious developments in the State of Palestine".
The organisation -which comprises 57 member nations- has issued a statement about the Friday's extraordinary summit, reading it will be held at the invitation of Turkish President Recep Tayyip Erdogan, "the chairman of the 13th session of the Islamic Summit Conference".
Erdogan's call came against a backdrop of increasing instability on the Israel-Gaza border, as a result of raw violence from the Israeli side against Palestinian protesters; victims of Israeli gunfire are over 60 in the past 2 days.
The Turkish President (centre) chairs the 2017 extraordinary summit
The OIC declaration – Is it going to help? 
On Monday, May 14, the OIC- 45th Council of Foreign Ministers issued a statement at the initiative of Chairs of the Islamic Summit, Turkey, and the Council of Foreign Ministers, Bangladesh On the Deplorable Action of the U.S. To Open its Embassy in Jerusalem.
"On 14 May 2018, the US Administration unlawfully opened its Embassy in Jerusalem, in clear violation of international law and legitimacy and in clear contempt to international community position regarding Jerusalem.
The Organization of Islamic Cooperation (OIC) strongly rejects and condemns in the strongest terms this illegal decision by the US Administration and considers this action as an attack on the historical, legal, natural and national rights of the Palestinian people, which undermines the standing of the United Nations and rule of international law and thus represents an affront to international peace and security;"
"The Organisation of Islamic Cooperation (OIC) has said that it will impose economic and political sanctions on countries, officials, parliaments, companies or individuals who support the US Embassy move from Tel Aviv to Jerusalem. The OIC condemned 'in the strongest terms' the illegal US decision", the middleeastmonitor.com has reported.
Indeed, the OIC is fully prepared to impose such actions: "The OIC decides to pursue all available legal, political, and legislative avenues at the national and international levels to confront and stop the Israeli colonial settlement regime in the Occupied Palestinian Territory, including East Jerusalem and adopt actions to ensure that companies and other actors that choose to benefit from the Israeli colonial regime are deprived of the opportunity of accessing OIC markets."
2017 OIC family photo, Istanbul
Moreover, the declaration reads: "The OIC calls upon all states to continue to fully implement UNSC Res. 476 and 478 of 1980 and in this regard urges all states to refrain from supporting the US decision to recognize Jerusalem as the so-called capital of Israel and not to relocate their diplomatic missions to Al Quds Al-Sharif and stresses that it shall apply political and economic restrictions to countries, officials, parliaments, companies, or individuals who recognize the annexation of Al Quds by Israel, the occupying power, or deal with any measures related to consecration of Israeli colonization of occupied Palestinian territory."
What remains to be seen is how easy a shift of power could be, with the OIC members actively reacting to the American show of power and to what extent the measures OIC is prepared to take will affect the rest of the world… …. / IBNA
Main Photo: The President of the State of Palestine and Palestinian National Authority, Mahmoud Abbas and the Turkish head, Recep Tayyip Erdogan shake hands at the 2017 OIC Extraordinary Summit in Istanbul