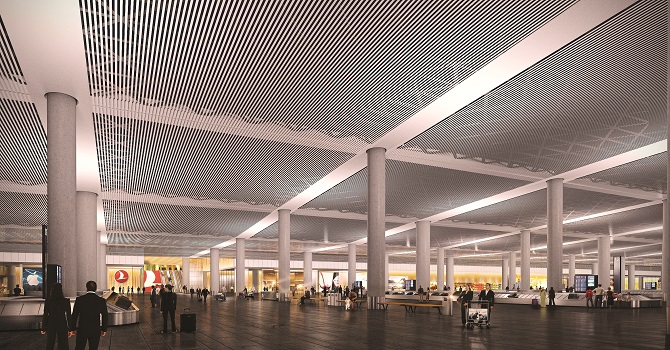 Istanbul, February 25, 2016/Independent Balkan News Agency
By Manolis Kostidis
In 2018 is expected to be ready the first part of the construction of the new airport of Istanbul, which it will initially be able to serve 90 million passengers, said in a statement, Turkey's Transportation Minister Binali Yıldırım.
The Turkish minister said that when the airport is completed and be fully operational, it will be able to serve 150 million passengers and will be the largest in the world. The new airport will have six runways and will have the capacity to simultaneously accomodate 500 aircrafts. In the same area there will be a parking space for 70,000 cars.
Yıldırım said "Turkey has made a great achievement in aviation since 2003. And thetime, our share in air transports was at 0.45% while now it has reached 2%. In parallel, our annual growth worldwide was 5%, while we even reached 15%. In addition, the airline that flies to most cities in the world is Turkish, having reached 243 places. The Atatürk Airport of Istanbul is third in connectivity with other cities, followed by London and Paris. It used to be the 14th. Istanbul is the center of air travel. Once we realized that we decided to construct the world's largest airport. They accused us, they told us that we are crazy. Yet we are being vindicated".
The Kemal Atatürk airport in Istanbul has the capacity to serve 70 million passengers. In 2002 it had served 11 million passengers while in 2015 this number reached 61 million passengers!