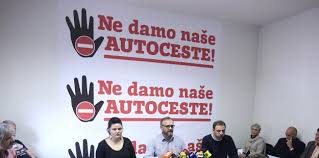 By Marija Avramovic – Zagreb
Prime Minister Zoran Milanovic believes that a referendum against the monetisation of the Croatian motorways would be a form of obstruction of the Government to conduct economic policy, propose and adopt measures to strengthen the economy and have a positive impact on national finances.
"In Croatia it is quite normal to give a piece of coast for 100 years under concession and it is normal and lawful, but there are a number of other concessions. But when thinking about how to neutralize the bad influence of old debts and the predecessor's criminal activity, so that these roads could actually be rented with strict rules, then any setbacks will result in losing the chance to make a profit and will in fact will destroy all that we are trying to build",  Milanovic said.
"If at this moment a sufficient number of signatures is collected and a referendum is carried out,  at which only five people vote and it becomes valid, we have no way to oppose it. All we want is to repair and correct previous errors and crimes", the Prime minister stressed today after laying wreaths  on the occasion of Independence Day in Zagreb.
Asked about the upcoming revision of the State budget, Milanovic said that some savings have to be achieved, but that the policy of savings and cuts at any cost after six years of crisis has brought nothing to Europe.
Members of the initiative 'We will not give up our highways!' recently held a press conference at which they announced the start of collecting signatures for a referendum against giving Croatian motorways under concession.
This initiative was launched by five trade union confederations, two road maintenance unions and seven civil society organizations and was recently joined by many other organizations (unions, associations) from all over Croatia.
The reason for this broad gathering is that everyone shares the same goal, unseen in Croatia until now, is the intention of the current state government to give the highway in Croatia under the concession for 40 years.
At the press conference it was pointed out that the signatures for a referendum would be collected between October 11-25, and that the government until the completion of collecting of the signatures should suspend all activities on the monetisation of the highway.