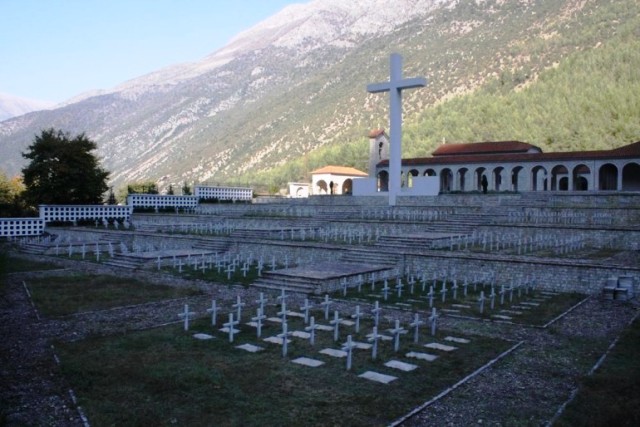 Tirana, 17 October 2016/Independent Balkan News Agency
By Edison Kurani
One of the main topics of the official talks between Athens and Tirana is the one concerning Greek soldiers fallen in Albania.
This agreement has remained pending for several years. No one knows when this process will be completed. For many people, this is lack of respect for the dead.
The Albanian government keeps this issue away from the media's attention. It seldom mentions it during high level meetings between Albania and Greece.
The Greek side is more intensive in handling this issue, both in the state's aspect and the media aspect.
However, nothing new appears on the horizon.
What does Greece want?
A draft agreement between the two governments stipulates the construction of two cemeteries for the remains of Greek soldiers, one in Kelcyra and one in Bularat. Unofficial sources say that two other cemeteries have been requested, one in the village of Ciflig in Korca and one in Erseka.
Since December 2012, the Greek Ministry of Foreign Affairs asked permission from authorities in Tirana to excavate in 696 different areas of Albania, mainly in villages and cities in the south of the country, where it hopes to find the remains of Greek soldiers.
According to the list that the Greek commission has submitted to the Albanian commission, the number of the fallen soldiers amounts to 1200 people.
There will be no cemeteries without healing some other "wounds"
The Albanian government has decided to work with the Greek government based on the principle of reciprocity. The requests of the Greek side will be accepted only of the requests of the Albanian side are accepted.
This is publicly confirmed for the first time by the Albanian Speaker of Parliament, Ilir Meta. Speaking on the fact that there has been no progress with the issue of the Greek cemeteries, Mr. Meta admits that if the problems concerning both sides are addressed, then there may be a solution.
"This must be part of a joint package which handles the concerns and pending issues for each side. Both sides must listen, evolve and discuss professionally and constructively. Parliament of Albania will back the significant progress through this mechanism".
Meta confirms the existence of a joint commission for Greek cemeteries, adding that this commission and the other on historical texts, "must move things forward and as parliaments of both countries, we have agreed on supporting their work".
"If we face history, like other European nations have done in the past, will set the ground to find a solution for a number of issues concerning Greek cemeteries in the Albanian territory, history texts, delimitation of the continental shelf and the "Cham Issue", for which we have opposite stances", Mr. Meta says. /balkaneu.com/