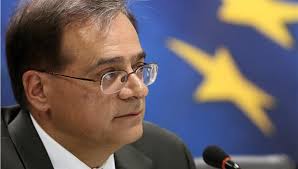 By Spiros Sideris – Athens
The issue of Greece exiting the Memorandum remain open, specifies the Finance Ministry statement issued on Friday, in response to complaints made by main opposition SYRIZA.
Specifically, there is an excerpt from the interview given by Finance Minister Gikas Hardouvelis in international financial agency Bloomberg, which describes the framework of Greece exiting the memorandum.
In particular, as the Ministry of Finance point out, "in an interview on Bloomberg TV, Finance Minister Gikas Hardouvelis was asked specifically: "Would it be possible for Greece to exit the programme ahead of schedule, to leave money that are now on table and get out earlier under the umbrella provided by the troika?".
He replied, among others: "everything is open, meaning that: The european programme is completed at the end of the year. The IMF program ends in 2016, so there is a gap between the two programs. Everything is under discussion. It is very difficult to say something now. But a solution will be found".
As noted in the same announcement, "this answer not only doesn't it  weaken, but in full harmony with the positions of Prime Minister, sets the exact framework within which the debate on the exit of Greece from the memorandum is conducted. So it makes one wonder why SYRIZA MPs accuse the Minister of Finance commenting on this answer. Instead, it would be useful to read today's interview of the director of the office of the leader of the main opposition, Mr. N. Pappas, in matters of the economy", concludes the same announcement.