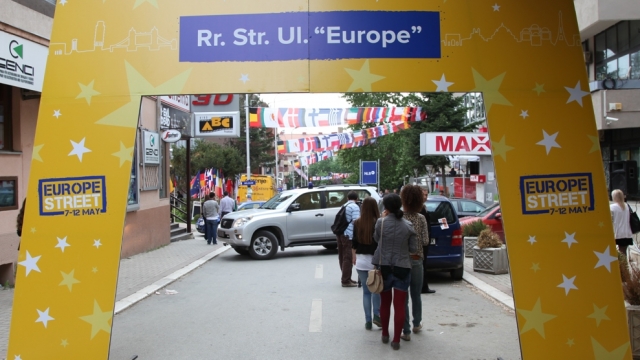 Pristina, 5 May 2015/Independent Balkan News Agency
By Elton Tota
In spite of the lack of a clear perspective for integration in the European family, Kosovo is the only country in the region and Europe that celebrates May 9.
This day is an official holiday.
Although the citizens of Kosovo are the most isolated country in the region, for them, Europe continues to be a synonym of freedom, democracy, humanism and classical, cultural and political values.
"It's the dream of every citizens in Kosovo to become part of the European family one day. Europe is the country of wellbeing, freedom, democracy and this is why we want to join these universal values", declared for IBNA Petrit H, student of European integration in Pristina.
Meanwhile, Fanol Shala, accuses Kosovo institutions of not doing as much as they should in meeting the EU accession criteria.
"Unfortunately, Kosovo still faces many challenges and problems in its path toward the European Union. Politics of Kosovo has done very little in meeting the reforms demanded by the European Commission. Under these circumstances, we have remained isolated and without a clear perspective for EU accession. On May 9, we will celebrate to demonstrate that we see no other alternatives besides European integration", says Shala for IBNA.
Experts of European affairs told IBNA that Kosovo cannot achieve any results or progress in its EU path just by celebrating.
Professor of European law, Llokman Murtezani says that institutions of Kosovo must work more, because the desire to become part of the EU alone is not sufficient.
"The European Union still has a neutral stance toward the independence of Kosovo. Some member states have not yet recognized its independence. We are the only country in the region not to travel without visas. So what are we celebrating? Our failures?  I think that it's not the right time to celebrate, but we must be engaged in delivering the tasks determined by Brussels", says Murtezani.
Meanwhile, Democratic League of Kosovo MP, Vjosa Osmani says that the state can show its support for the process of European integration not by celebrating, but by working in order to deliver the EU accession criteria.
"Kosovo faces many reforms which have not yet been delivered and I don't see any reason to be off on this day", she says.
Self Determination MP, Ilir Deda doesn't believe that it's reasonable to celebrate this day.
"There's no reason to celebrate May 9, because no EU member country celebrates this day. This issue has not been thought well, because we cannot have a European future without handling substantial issues", he says.
On 9 May 1950, former Foreign Minister of France, Robert Schuman, launched for the first time his idea for the unification of the industries of coal and steel between the Federal Republic of Germany and Republic of France. This was the first institution of what later took the shape of the European Economic Community, which then became the European Union.
But this day also has another importance, that of the victory over fascism in Europe. This is the day of the final capitulation of the Nazi Reich and the day of the liberation of the nations of Europe from the fascist and military oppression of the Axis. /ibna/