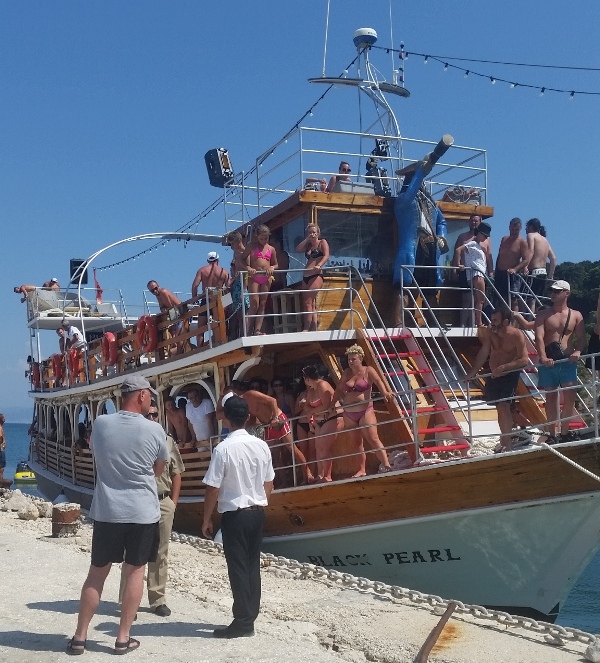 Tirana, 27 July 2015/Independent Balkan News Agency
By Edison Kurani
Albania doesn't have many islands and those few that the country has, have been closed for the public by the communist regime.
What's more, this situation continued with the island of Sazan for another 25 years and this weekend, this island opened for domestic and foreign tourists as a natural and historical tourist destination.
As of Saturday, 25 July, this island which so far has been a military base, has started to welcome the first visitors.
IBNA brings you images from the first visitors in this island which had been a "forbidden apple" for 70 years. However, the island will remain open only during the summer season, which ends at the end of August or mid September, perhaps to reopen next summer.
The project for the island was earlier presented by PM Rama as one of the novelties of this tourist season.
National Agency of the Coast will be responsible for the administration of the island during the tourist season. IBNA learns that military forces will continue to be present in the island.
Head of the National Agency of the Coast, Auron Tare says that the opening of the island has been done bearing in mind the concept of turning this into a center of eco-tourism and cultural tourism, where visitors can come and see a marvelous place which has been isolated for years.
"In a certain way, some sort of allegory of communist Albania, which was a very beautiful country, but always an isolated country surrounded by barbed wire, bunkers, etc. Therefore, this means coming here and rediscovering your past or the past of your parents and grandparents, which you don't know", Tare says.
"Of course, for foreign visitors too it will be an extraordinary opportunity to learn from Albania during the cold war and also to see the beautiful nature of Sazan", he adds.
Authorities have decided to welcome small groups and not large ones and the entry into the island will only be through the port, as all other sides are forbidden.
Also, the area around the island is a protected sea area and up to a certain distance, ships cannot come near, because according to the authorities, the island has a very fragile underwater eco system.
The government has decided to generate incomes from the opening of the island, therefore every person that visits Sazan, will have to pay a fee.
"There will also be an entry fee, because we believe that it's very important for the island to be self funded. All incomes will go for the island and then, the money will be used to open a visitors' center and a center for scientific research, which we want to establish here for the management of the area", Tare says, not revealing the price of the ticket. /ibna/