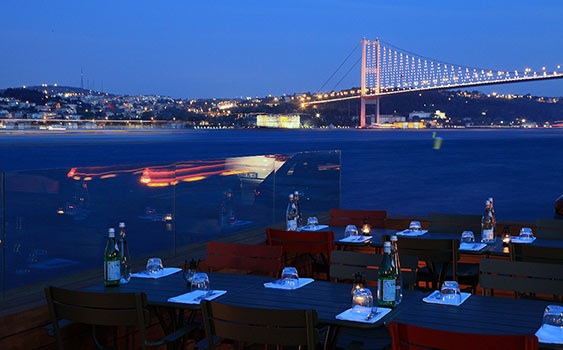 By Manolis Kostidis – Istanbul
It seems like Turkish night club owners have had to change the way they run their businesses due to strict laws prohibiting alcohol consumption imposed by the Erdogan government and the conservative turn the country has taken.
Western-type bars and nightclubs in the neighboring country have given way to clubs that don't sell alcohol and high class shisha cafes frequented by Islamists.
Nightclub Huqqa is one of those. Even though Huqqa is a nightclub, no alcohol is sold. They sell even alcohol-free mojitos!
Huqqa is packed with upstart Islamists who partied just like other Turks up until now but never thought it right to go to the most famous clubs and bars in Turkey where they would be seen refraining from drinking alcohol. Pro-islamist conservative pressure from society is evident in Turkey.
This particular club is located in Bosporus, in the Curucesme area where the most prominent Turkish businessmen go, together with TV stars, and alcohol flows abundantly.
Huqqa matches these clubs in décor and quality as well as the expensive cars parked outside. The only difference is there is no alcohol. Many women wearing headscarves and others without are also seen there; however dress is more conservative in general. The scarves worn by women and the cars they drive are expensive. A passerby will not be able to tell that Huqqa is not an ordinary club.
Its owner, Jihan Kamer, did afterall invest 12 million lira (nearly EUR 4.5 million) to open the club. It even stays open round the clock! In the morning breakfast is served and the rest of the day coffee and food before it turns into a nightclub.
The menu comes on an iPad and includes 140 different dishes and 160 non-alcoholic drinks! There are expert-waiters on shishas. There is also a special room for praying, for Muslims that don't want to miss a day's prayer.
"Many think our club is a conservative joint, but Huqqa isn't. It is a place anyone can come who says "I want to enjoy myself tonight but I don't want to drink". Conservatives and more modern young people will come closer here. You don't get that at other clubs" Kamer says.
All nighter with tea and shisha
Similar clubs are opening in Istanbul. Again in Bosporus, in the area of Bebek, a luxury shisha café has opened. It is called Al Fakheer and it has 26 special VIP suites. Rich patrons can enjoy their shisha watching movies on television or ask for an iPad to surf the internet.
A similar place opened in the eastern bank of Istanbul called Mest, where wealthy Islamists stay up all night drinking soft drinks, tea and smoking shisha.
Since last June, a new law prohibiting alcohol consumption in public kicked in in Turkey. Alcohol is not sold at kiosks after 10 pm and consumption is not allowed in parks, streets or near mosques and schools.
The great change Erdogan has brought about in societ is clear for many. Conservatives, women wearing headscarves, people that don't drink alcohol, all avoided frequenting places where alcohol was consumed. They never went to any of the shops where westernized Turks went.
Now there is a new middle class that is conservative, pro-Islamic and wants to live like "modern western-friendly" Turks; however, they are creating their own luxury "Muslim places" that are second to nothing in luxury compared with other clubs, except alcohol.