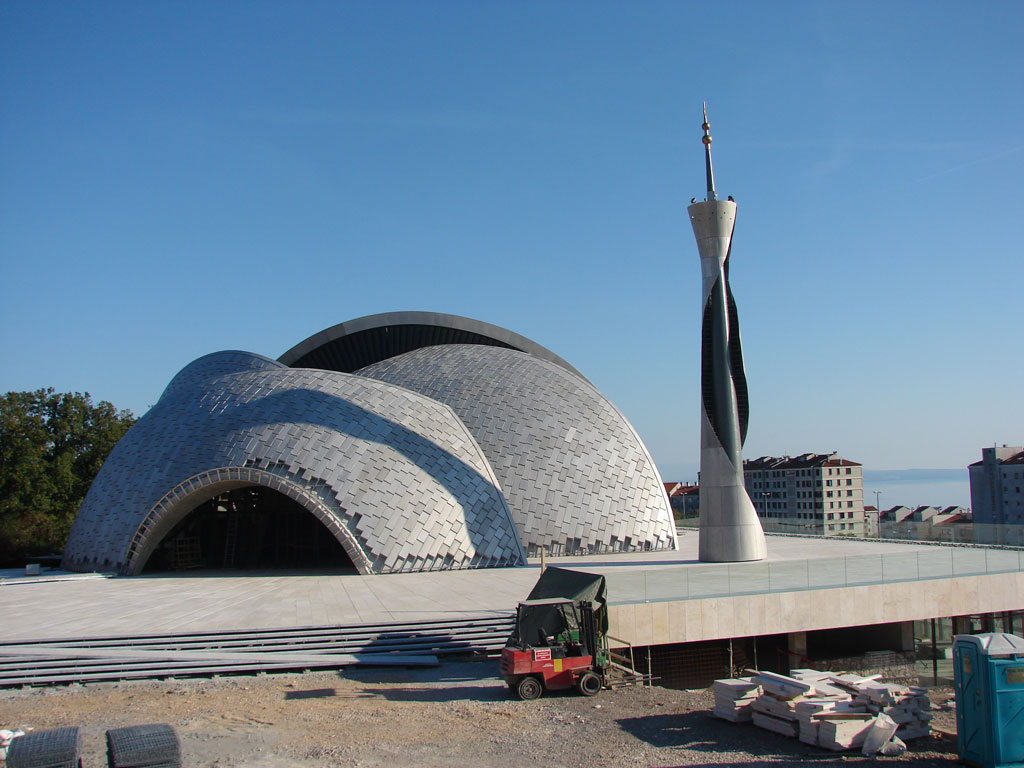 By Natasa Radic – Rijeka
The Islamic center in Rijeka will open in May and it is expected to host between fifty and sixty thousand believers from all over Europe. According to the announcements of the Zagreb Mufti Aziz Hasanovic, the highest manifestation of the religious scene in this part of Europe will be open the Qatari Minister of Religious Affairs Gajs Bin Mubarak Al Kuwari, representing the Emir of Qatar, the main investor of the impressive religious center.
The beginning of the contruction works for Rijeka Mosque and Islamic Center, built according to the preliminary designs of the deceased sculptor Dusan Džamonja started in 2009. when the former Qatari Minister of Religious Affairs Aimad Al-Marri opened the building site.
The center is spread over an area of 2368 square meters overlooking the Rijeka bay. The main prayer space area has 1200 square meters. With a prayer area in the center are three apartments, a multipurpose hall, offices of the Islamic community, classrooms for religious education, kindergarten, restaurant, reading room and an underground garage, the Islamic center is beautifully decorated and reporesent the combination of modern and classical. The interior of the mosque can host fifteen hundred believers – in the lower part thousand men can pray, and the gallery, which has a separate entrance, can host five hundred women.
Zagreb Mufti Hasanovic thinks that the opening of this center will place the region of Rijeka, at the norther parts of the Adriatic coast in the center of multiculturalism.
– The Islamic community in Rijeka is the best example of how you sucessfully handle the Muslim issue, and the construction of the center is the best example of how to build houses of worship. Rijeka Islamic Center will act to prevent all forms of radicalism, said Hasanovic.
In March this year, the imam of Rijeka Hajrudin Mujkanović said that the Muslims who live in the region have been using the Center since the last Ramadan and they are very satisfied. He expects not only that Rijeka will now have the religious center that will prevent radicalism, but it will also represent a tourist attraction and it will attract many Muslim tourists from all over the world.
-The Islamic Center of Rijeka will be another important step forward in the direction of openness and co-existence, and with its religious significance, it will also have a cultural value, said the mayor of Rijeka Vojko Obersnel.