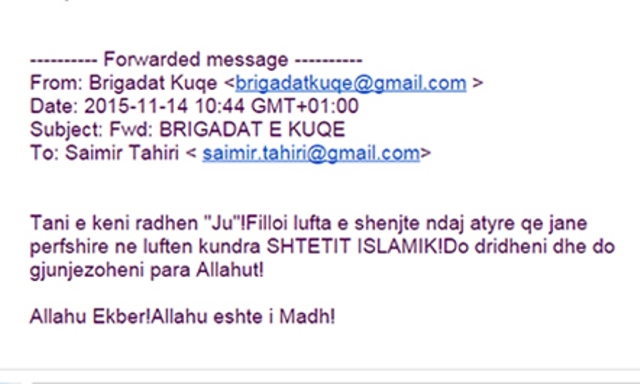 Tirana, 16 November 2015/Independent Balkan News Agency
Two people have been arrested by police in Tirana after the threat sent by electronic mail to the Minister of Interior, Saimir Tahiri.
The Anti terror Directorate has arrested the two young men, K. Mahmutaj and V. Meshi, suspected of their involvement in the threatening e-mail that Tahiri received a few hours after the tragic attacks in Paris.
So far, there is no information on the depositions made by the suspects and their objectives.
IBNA brings you below the facsimile of the threatening e-mail from the so called Red Brigades stating that: "Now it's your turn. The Holy War against those who have been involved in the fight against Islamic State has started. You will tremble and kneel before Allah!"
The message sent by the "Red Brigades ends with the words "Allahu Akbar! Allah is great!" /ibna/