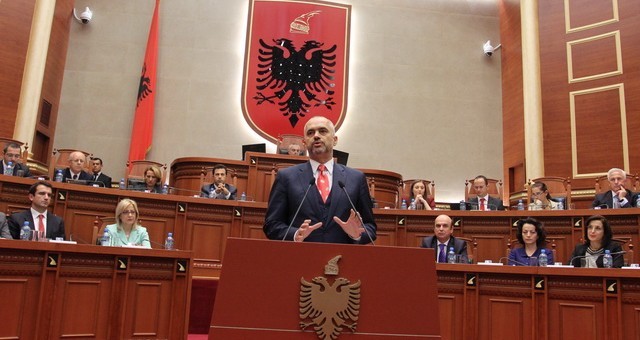 Tirana, September 18, 2014/Independent Balkan News Agency
In his speech in parliament, prime minister Edi Rama made a summary of the proceeding of the NATO summit in Wales, stressing that this is the second summit in which Albania participates.
Rama said that the summit condemned the attacks carried out by ISIS and that it identified the fact that Albanian nationals have been engaged in these fights and attacks.
"This is a concern, as terrorist mercenaries will try and find shelter in their country of origin by threatening to export from there the barbarism demonstrated on a daily basis in Syria and Iraq. This increases the need to speed up the NATO integration of Kosovo, Macedonia and Montenegro. Accession is the most suitable measure against the hallucinating ambitions of international terrorism", said Rama.
Among others, the head of the government underlined that NATO leaders condemned the coward like and violent actions of ISIS, adding that if the security of an ally will be threatened, there will be no hesitation to offer collective protection.
Rama said that the Albanian delegation was clear in its positioning in relation to the process of the expansion of the alliance with countries of Western Balkan.
He also said that NATO member countries, who have not yet recognized the independence of Kosovo, were asked to finalize this process as soon as possible. /ibna/