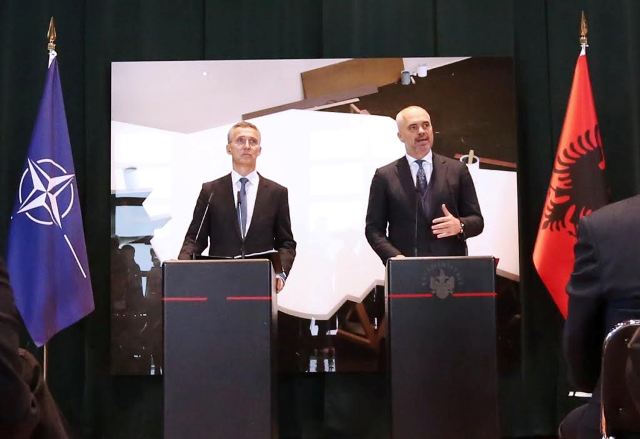 Tirana, 10 December 2015/Independent Balkan News Agency
By Edison Kurani
NATO's Secretary General, Jens Stoltenberg, held his first official visit today in Albania, where he had a number of meetings with senior state officials.
New waves of terrorism originating from the Middle East and North Africa, the common concern for the security and stability in the east of Europe, the Ukrainian pending issue, the enlargement of the Alliance, strengthening and modernization of defence capacities and military missions, were some of the main topics of these meetings.
Mr. Stoltenberg appeared in a news conference along with PM Edi Rama, following a tête-à-tête meeting between them.
Mr. Rama said that all ally countries feel equally threatened by ISIS, something that Mr. Stoltenberg agreed with. The latter said that "this is not a conflict between Islam and the West", adding: "This is a conflict between extremism and open societies and we must rise in order to protect our values, fight extremism and terrorism together".
Stoltenberg said that many of the complex challenges that the world faces, must be handled through diplomatic and political means, but also military means, therefore NATO's constant military adaption remains of a crucial importance.
When it comes to ISIS' terrorist threats, Mr. Stoltenberg says that what was seen in Paris, but also in other European countries, is the fact that no country is immune against these threats". Mr. Stlotenberg offers an advice: "This is why we need to be alert and prepared. We must all intensify our efforts to fight terrorism, extremism and ISIL. We need military means and I welcome the fact that many NATO ally countries are boosting up their contribution for the global coalition in the fight against ISIS".
But Mr. Stoltenberg insists for negotiations, when he says that we also need economic, political and diplomatic instruments adding that: "It's extremely important to back these efforts, in order to find a politically brokered solution of the Syrian crisis. These talks will take place, but NATO plays its role, partially through its alliances which contribute in the war coalition against ISIS, but also by focusing on the main causes of terrorist destabilization and threats".
On the other hand, Mr. Stoltenberg suggested from Tirana that the countries of the region must also be helped to boost their capacity, in order to offer stability for their countries and fight extremism by themselves. "This is exactly what we are doing in Afghanistan, where we train and help Afghan national troops to fight extremism and terrorism. This is what we are doing in Jordan, where they are building up their own military capacities, through our help in training and this is also what we are doing with the Iraqi government, while we help them to modernize their armed forces in order to have stronger local troops to fight extremism in Iraq. This is also the reason why we are working with a country such as Tunisia".
The scope of the NATO secretary general was clearly identified in the press conference delivered in Tirana today: "We must focus more on how to involve local forces in the fight against ISIS and extremism". We must stress that it's not a war between the West and the Muslim world, Mr. Stoltenberg said. "This is a war against extremism, criminals and barbarian violence", also admitting the fact that "the majority of victims of terrorism are Muslim".
***
For several years, Albania has sent military forces in the NATO missions in Afghanistan and Kosovo and also in Iraq. Albania also offers its contribution in building defence capacities in the east, in countries like Ukraine and Georgia. At least three people have died and several others have remained wounded in these military missions. /ibna/