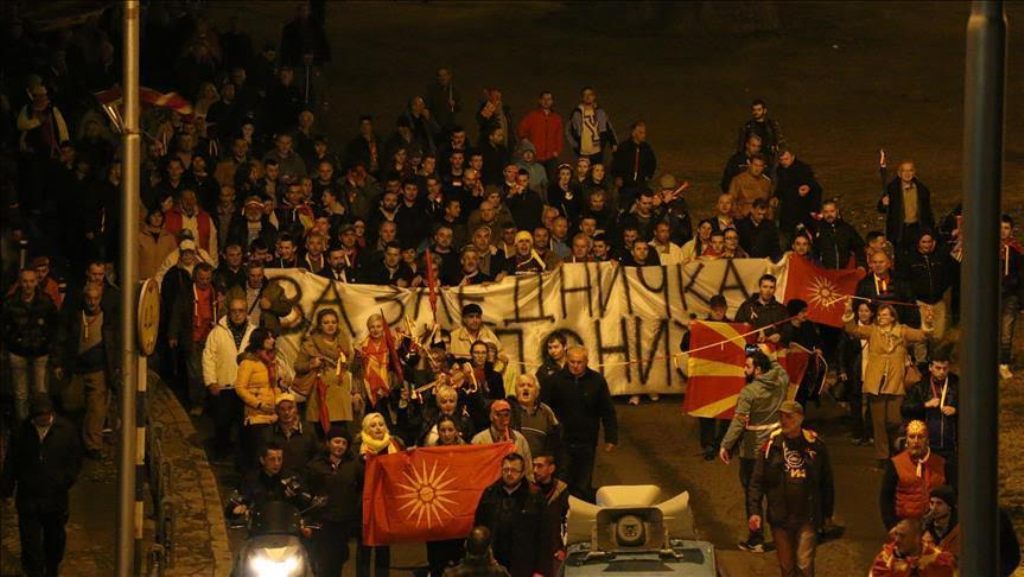 Political crisis in FYROM is heading toward a cross ethnic crisis. This is the claim by several political parties, which have called on VMRO-DPMNE,  led by Nikola Gruevski to lower its nationalist tones.
"Gruevski and Ivanov must respect the Constitution and must stop violence, as the citizens of Macedonia are in favor of a concept for a united society", SDSM reacted.
Meanwhile, VMRO-DPMNE has replied by saying that the leader of SDSM, Zoran Zaev is to be blamed for the current situation, because by accepting the Albanian platform, he has provoked the Macedonian people and leading the country toward divisions.
"If Zoran Zaev and SDSM have suspicions as to whether the platform drafted in Tirana is damaging for Macedonia, then, we, VMRO-DPMNE encourage them to reject it. VMRO-DPMNE will not allow any solution which is against the state and national interests", Gruevski's party said.
The deputy chairwoman of the Democratic Union for Integration (BDI), Teuta Tarifi said that aggravations of cross ethnic relations do not help the country and that political issues must be solved politically.
Besa Movement says that parties in power are to be blamed for the political crisis and its transformation into a cross ethnic crisis.
"There may be indications that the political crisis is turning into a cross ethnic crisis, but we never wanted for this to happen to our country, because good cross ethnic relations are critical to the stability of the country", said the spokesman of BESA Movement, Orhan Murtezani.
Meanwhile, Alliance for Albanians has called on the population to avoid destructive elements which would deteriorate cross-ethnic relations.
"It is unacceptable for this situation to be attributed ethnic elements at critical moment for the country, when a government is expected to be formed", says Flakron Bexheti from the Alliance for Albanians.
Liberal-Democratic Party, which is part of the coalition with SDSM, also called for calm in this situation of crisis.
Expert of political developments, Ismet Ramadani told IBNA that certain political players are deepening the political crisis, aiming to cause trouble of an ethnic nature. He says that the international community will soon point its finger to the responsible parties which are causing problems.  /balkaneu.com/