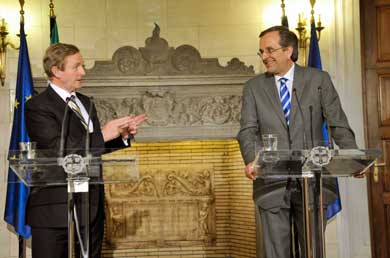 Prime Minister Antonis Samaras said on Thursday that he sees Ireland as the "successful example" Greece should follow to overcome the crisis as he held talks in Athens with his Irish counterpart Enda Kenny.
As the two men were meeting at the premier's office and then viewing exhibits at the Acropolis Museum, Finance Minister Yannis Stournaras said Greece's goal must be to produce a primary surplus, which would force the eurozone to live up to its commitment to reduce the country's public debt further.
Samaras praised the way fellow conservative Kenny, and his government, had tackled Ireland's difficulties through a "wave of reforms." He said that Ireland's recipe of low taxes and an export-oriented economy were models that he would like to copy in Greece.