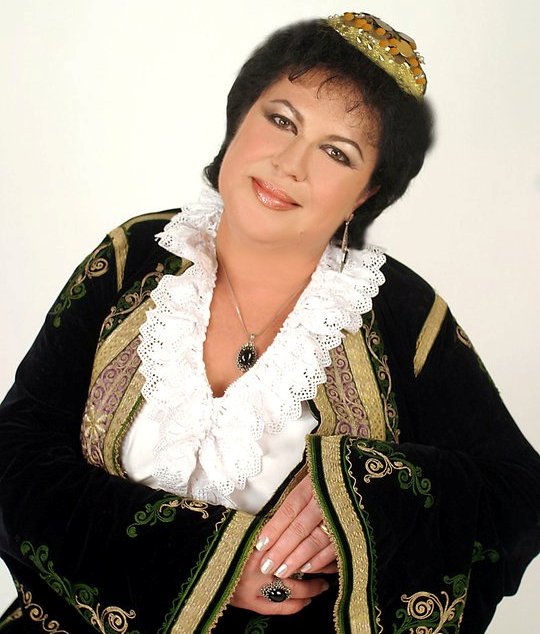 IBNA Interview/Famous Albanian singer, Irini Qiriako confesses in an interview for IBNA
One of the most prominent names of the folk music, especially polyphonic music, with a long career of over three decades, one of the golden voices of the State Ensemble of Folk Songs and Dances, a famous artist and activist. Irini Qiriako, decorated with the "Great Master" title, belongs to an unforgettable generation of Albanian artists of '70s-'90s, who have remained in the memory of those who had the chance to follow them in the Albanian and world stages.
In an interview for IBNA news agency, Irini Qiriako talks about her plans for the future, which consist on new video clips and albums. She also talks about concerts and her participation in many activities in the country and abroad…
What is the first song that you have sung and what year was that?
In 1979, after I finished my studies at the High Institute of Arts, I started out as a singer in the State Ensemble of Folk Songs and Dances. For the first time that year, I sang the polyphonic song "The songs of my fatherland" on the stage of the National Theater of Opera and Ballet. The song was very successful, in terms of interpretation and the epic power that the great poet, Lefter Cipa gave to it. This powerful song has accompanied me during my entire artistic career, in Albania and abroad.
Was singing an early passion of yours or an innate talent?
My love for singing is fed by the passion and talent which along with my constant efforts, have had an impact in my formation as a singer of folk music. In general, like almost every singer, I can say that my beginnings date back from childhood, when talent and passion start to emerge. My parents and a neighbor of mine tell me that when I was 5-6 years old, I sometimes used to sing "My father sent me with the lambs". The family environment and especially school, had a big impact on my passion for singing. A great impact for the development of talent in music and songs was given by my studies at the "Jordan Misja" Art School and the Institute of Arts in Tirana. Along with my cultural and musical formation in general, these institutions also improved the power of interpretation.
You are mainly known for lyrical songs, ballads and polyphonic songs. Did you find more room in folklore given that you focused on folk music?
I was fully completed as a professional singer of folk music at the Ensemble of Folk Songs and Dances. Besides folklore  features, this institution also processes folk music of all genres, types and its geographical locations, lyrical, epic, historical, love music, music of northern, midland and southern Albania and music from the Arberesh. All these genres along with the great professional artists, helped me a great deal in my artistic formation. I'd like to express my gratitude and respect for singers such as Vace Zela, Fitnete Rexha, Naile Hoxha, Hysni Zela, Sabahete Vishna, etc. They are truly great names of the Albanian music.
In the Ensemble of Folk Songs and Dances, you became especially known for the interpretation of polyphonic songs. In his book, "My soil", the great poet of the Albanian polyphony, Lefter Cipa wrote:
Irini, princess,
Love polyphony,
Because you will find God in it,
This is why this world never dies!
Why do you love polyphony this much?
The polyphonic songs of that time were inside my soul. I admire the polyphonic songs, not only for the special musicality that they have, but also for the unique values that they bear. I was born with it and I will die with it. At a time when in many countries of the world, polyphony was considered as a relic of the ancient times, for us, Albanians, it's a treasury of our spiritual world.
Nevertheless, do you enjoy experimenting with new music genres?
I enjoy experimenting and I would say that before trying the polyphonic song in the Ensemble, when I was a student in the Academy of Arts and High School, I took part in one of those monthly surveys that "Radio Tiran" used to do. I successfully made my debut with soft music through the songs of Naim Veizi and several other composers. It seems that polyphonic songs are deeply rooted in my genes and they prevailed over everything else. But, I would say that I have also tried to sing songs from the northern regions in my albums, because we were schooled a lot in this ensemble. Xhemal Laci was a great teacher who taught us to know all regions and sing their songs, but I have also sung ballads. In an album where I collaborated with Edmond Zhulali, I sang a love song. Love with pain and sorrow. Those who heard that song, were surprised. I have tried it and I'm convinced that I excel there too, but I do not want to expand my genres a lot, because the spectator knows me for what I am and for what I sing. Sometimes, when one wants to do more, one loses and doesn't do the main thing.  But I'm not afraid to try new things and with Edmond [Zhulali], I will produce another album, something else, for my pleasure and that of the public.
You have collaborated with many composers. Who was the most successful with you?
It's true that I've collaborated with many composers, but with Edmond Zhulali I was the most successful. With him, I started to produce albums. I have produced 7 albums and almost all of them are songs written by Zhulali.
Polyphonic songs are protected by UNESCO. Are you afraid that this genre may lose its glory with the passing of the years? What is the contribution that you may give to prevent this?
Yes, polyphonic song is a world treasury, which is protected by UNESCO and I want to leave to my country these brilliant songs. But, I'm afraid that in the future, globalization can make them disappear. Our children went to live abroad, only elderly people have remained in villages and this is scary. I want to leave these treasuries of my country, of the Albanian polyphony. I want them to remain as part of the Albanian culture in order for them to become known worldwide. I have produced albums in Paris, two polyphonic albums and they have traveled all around the world in Albanian.
How many songs does the archive of your repertoire contain?
There are around 300 songs, the majority of which belong to polyphony. I truly find myself in this domain.
What was the last activity that you participated?
It was the fifth assembly of Laberia association, which also saw the participation of prominent personalities such as  Rexhep Qosja, former president Alfred Moisiu, etc. A few months ago, this association honored me with the title "Honor of Laberi". This activity was really marvelous, because you could hear people's ovations.
What is your opinion on the current Albanian musical market?
The musical market is suffering a total crisis. Piracy has become like a plague. The economic crisis is very strong, therefore, I don't know what else to say about the musical market.
Do you have any advises about those who enter the music world? What is the key to the success of an artist?
First of all, talent, then school of music and what's more important, engagement. A great role is also played by the intuition in choosing the repertoire. The artist must know the music that suits best his vocal. There must be constant work, because nothing can be achieved without it. I suggest them to ask as many experienced singers as possible, because they will help them in all kinds of directions. On the other hand, they must be modest and not complacent, because this is not how they can move forward. /ibna/